Ratatouille, on memory and remaking
I have little memories of my childhood's kitchen, aside from the apple green wallpaper, the night my brother taught me how to cut cheese properly and the fight my parents used to have behind the see-through glass door. Then there was the divorce, and with maman and my brother we moved into an apartment in the North suburb of Paris – also known as the quatre-vingt-quinze – with a corridor for a kitchen. I ate school meals every weekday except for Wednesdays, when I spent the day at my grandmother's. My fingers were covered in ink as I rigorously copied my conjugations all afternoon long at her kitchen table, most often sitting straight on the floor underneath it, hiding, the big wooden clock ticking in the background. This is my most vivid memory from the kitchen as a place, seen through the eyes of my child-self – as a witness of time and food in the making – the same dirty hands I love to see emerging from kneading doughs in my adult's kitchen, from splashing my homemade bread in simmering tomato sauce.

Grandma cooked carrots in batches. She boiled them in a pan with half a cup of water, a sprig of fresh thyme and a bay leaf, and then let them golden slowly once all the water had evaporated. I despised these carrots and their taste, even more so since they were served with a 'mange tes carottes, ça rend aimable,' – eat your carrots, it makes one pleasant – every single time, plate banging against the wooden table. My grandmother has always been the one and only recognised domestic cook in our family. My cousins, all much older than me, as well as my mother and aunt, all praise dishes I cannot remember ever trying. They raise their hands towards the sky, cry at how delicious the dorade, the boeuf bourguignon, quiches from all seasons, the tarte aux poires et chocolat, and even her simple purée de pommes de terre taste; they laugh at the fact the only dish she never mastered is the tarte tatin and this is never to mention anywhere near Paulette. What I remember are the soggy carrots made to transform me into a kinder version of myself.
I reached adolescence, and yet continued to visit my grandmother on Wednesdays, still doing my homework at the same round table, my fingers lengthening and the ink staining the vivid framboise pink decorating my nails, the wooden clock continuously ticking, often falling out of time. The photographs on the commode at the entrance never moved a millimetre, the black and white portrait of her father, who triggers glittering eyes each time she mentions him, the radiant photographs of both my mother and aunt in A3 golden frames. However, the carrots slid away from the kitchen counter as we started chopping more textures as a pair in her kitchen, thyme tied together with tiny pieces of rope between us, teary eyes from the onions. With my grandmother, or Mamie Magique as I called her then, we cooked ratatouille on Wednesdays. To make a ratatouille is an exercise of patience – as one slowly brings the colour of each vegetable at the forefront, in an explosion of taste and oil and smells. It was our summer kitchen in search of a sunny holiday. It is then that I started to build a relationship with mamie, a middle ground we shyly began to brush, between fear and respect for each other's generation. I mentioned my schoolmates' names, high pitch voice on, fast pacing as I continued to chop vegetables, whilst she paused to tell me about the brother I never met, the fields that once were running wild instead of the frozen supermarket's car park. My grandmother agitated the pans and knives and boards next, as she muttered, hydrate your ratatouille Margaux, moving on. The making of ratatouille was a skill mamie awakened to: it was her duty to teach her granddaughter how to make ratatouille for one or for ten, not the conjugation tables, so we could be reunited at our family's round table together. We ate our ratatouille at room temperature. It was summer, after all. We made extra to freeze, to top up a sea bass or serve on top of rice in winter, warm this time.
Ingredients required to serve ratatouille to 4 hungry souls, depending on vegetables' sizes and shapes:

2 aubergines
3 firm courgettes
2 peppers, any colours that bring a smile to your face will do
1 big and sweet white onion
5 well ripened tomatoes
3 garlic cloves
2 bunches of thyme
1 bay leaf
Olive oil
S&P
This year, I celebrated the last Sunday of summer by making ratatouille with someone I have only started sharing time in a kitchen with recently. Since the moment we met, we have been cooking together, sharing memories of what ingredients taste like in our respective mother's lands, silent nods to the other as we cut the garlic lengthwise or crush it, wide eyes as we walk through the dairy aisle at the supermarket. In the making of a present meal, our hands tell memories of past eateries, a potential for future meals slowly arising from the offing. He had never made a ratatouille before – and so I had to be the one guiding this time, my hands staging pots on the hob, mamie still muttering instructions in my ears, and my stubborn adult-self ignoring half of her silent screams. It is a peculiar pace to chop and wash and dry the dishes on the backdrop of new spoons hitting different cast iron pans, and to cut vegetables that once had foreign names. We shared the chopping duty: one on onion, peppers and tomatoes; the other on aubergines and courgettes. I watched his hands do from the other end of the kitchen counter, a digital clock in the background this time, looking safe and assured as he chopped the onion fast, teary eyes emerging between us nevertheless. I tied the rope around the thyme. I sent a photo to mamie half way through the preparation, reassuring her I am cooking my vegetables separately. She replied within seconds to let me know I should be adding water. She hasn't even tried it, I thought. I splashed more water into the casserole, nonetheless.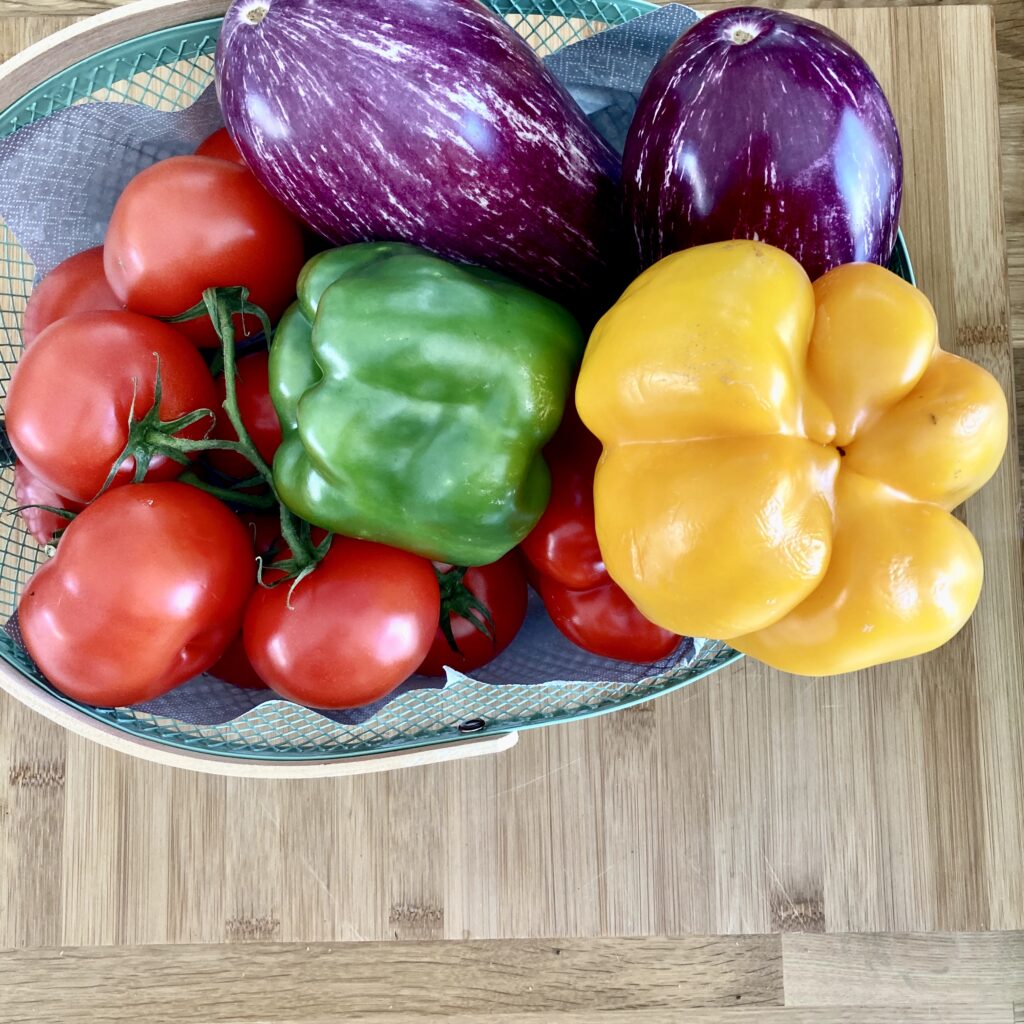 Method:
Skin and cut the tomatoes in small quarters – you can leave some bits chunkier if you like.
Slice the aubergines and courgettes – same here, you can play with thickness and shapes, depending on taste.
Slice the peppers thinly and lengthwise.
Cut the onion thinly and begin to golden it with 2 tbsps of olive oil and the peppers.
Once the onion is tender, add the tomatoes, garlic cloves, one bunch of thyme and the bay leaf. Add salt and pepper to taste, cover and leave to simmer for approximately 45 minutes on a low heat.
Meanwhile, cook the aubergines and courgettes in a pan with a little bit of olive oil, both separately. They should be well cooked.
Add the courgettes and aubergines and the second bunch of thyme to the tomatoey mixture – and a splash of hot water, Paulette style! Cover the pan and let your ratatouille simmer on a low heat for as long as you need to reach the texture you want. We like ours melty and comforting, so that's about 45 minutes. Sporadically remove the lid and give it a gentle stir – be kind to avoid breaking the vegetables.
There are the recurring meals when I eat to feed my body and the days when I pursue a history, of one culture, one family and one identity in the making. Then there is the occasion for a new dish. Ratatouille this season tasted new, saltier as I shared it with my sailing boyfriend, orangier than it would have ever been in France, where we always shelter to the familiar red peppers. There was something wholesome attached to this recipe: the control I had before an unfamiliar hob; and a missing part, my grandmother's nod as I grabbed a fork towards my first bite. Last week I ate a dish I had countless times for the first time.
Margaux, October 2020