Last Friday, we reunited for what we do best: cooking a dish for friendship. We wanted to remember summer, to splash homemade sourdough bread in broth and sauce, to use shellfish as spoons, and so we decided to give a salmon pink makeover to the famous Bouillabaisse de Marseille.
La Bouillabaisse is traditionally served with fish from the bay de Marseille, and it's served in two parts, a party of fish, shellfish, wild fennel, saffron and cayenne pepper. Bouillabaisse is a feast: slow in the making and in the tasting, an explosion of flavours and textures. We made ours with the shellfish we cherish the most and with the fish that were both the boniest and freshest at the fishmonger's that morning. For four hungry hearts, we bought:
500g clams (cleaned)
1 kg mussels (cleaned)
2 x sea breams (filleted, head and bones reserved, gills removed and washed)
1 x plaice (filleted, head and bones reserved, and washed)
1 x squid (washed)
1 x small crab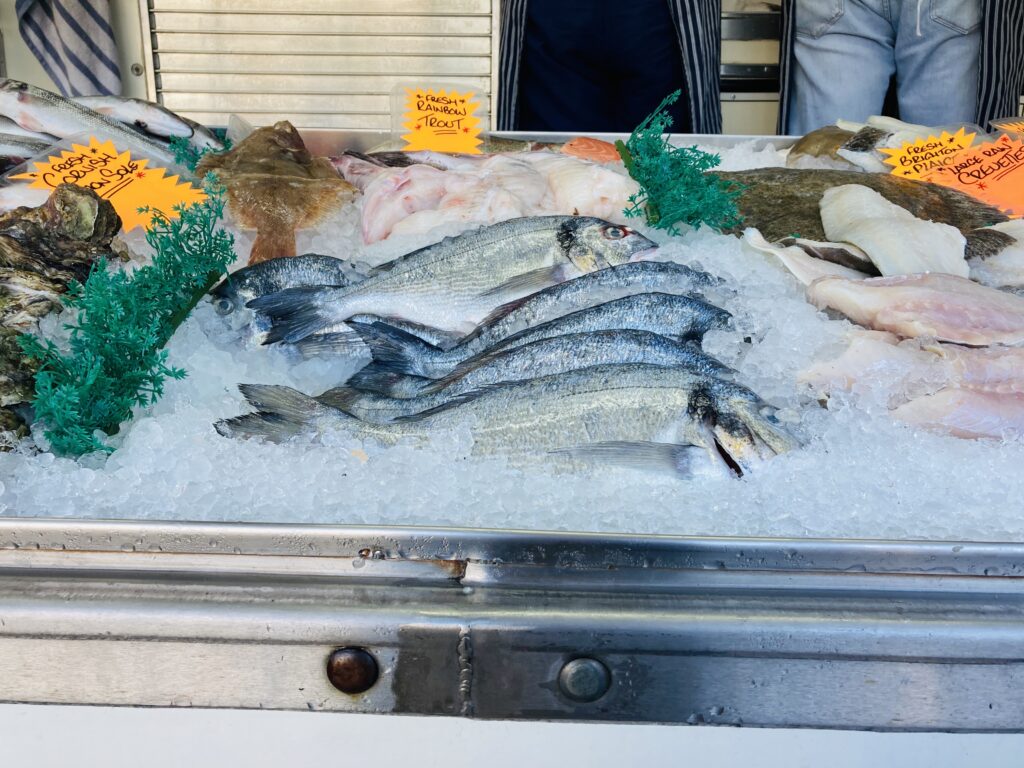 To marinate the fish:
1 small pinch of saffron
2 garlic cloves, peeled and smashed up
A generous handful of parsley
Juice of ½ lemon
1 tbsp white wine vinegar
1 tbsp olive oil
S&P to taste
For the broth:
1 onion, white and sweet, roughly chopped
1 head celery, roughly chopped
2 garlic cloves, smashed up
1 fennel bulb, roughly chopped
1 handful of wild fennel stalks, roughly chopped
4 fresh bay leaves
A generous handful of thyme sprigs
1 tbsp black peppercorns
1 tbsp fennel seeds
Peel of 1 orange
1 Spanish chili, seeds removed
1 tbsp good quality saffron
500g ripe vine tomatoes, roughly chopped
½ bottle dry white wine
A big glug of French brandy — the tradition would call for pastis as well but we must confess we are not fans!*
Olive oil
S&P to taste
For the rouille:
4 generous tbsp fresh bread, crust removed (we used baguette for something airy and mushy)
2 garlic cloves, peeled
3 salted anchovy fillets
1 small pinch of saffron
2 egg yolks
1 tbsp cayenne pepper
100 ml olive oil, to adjust as you go so you might need more or less
Juice of ½ lemon
1 tsp red wine vinegar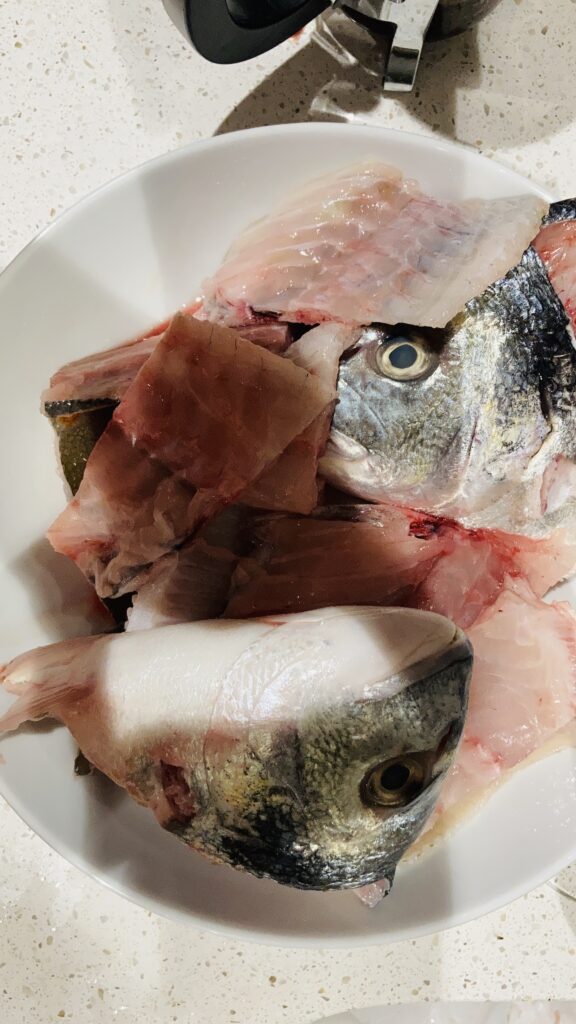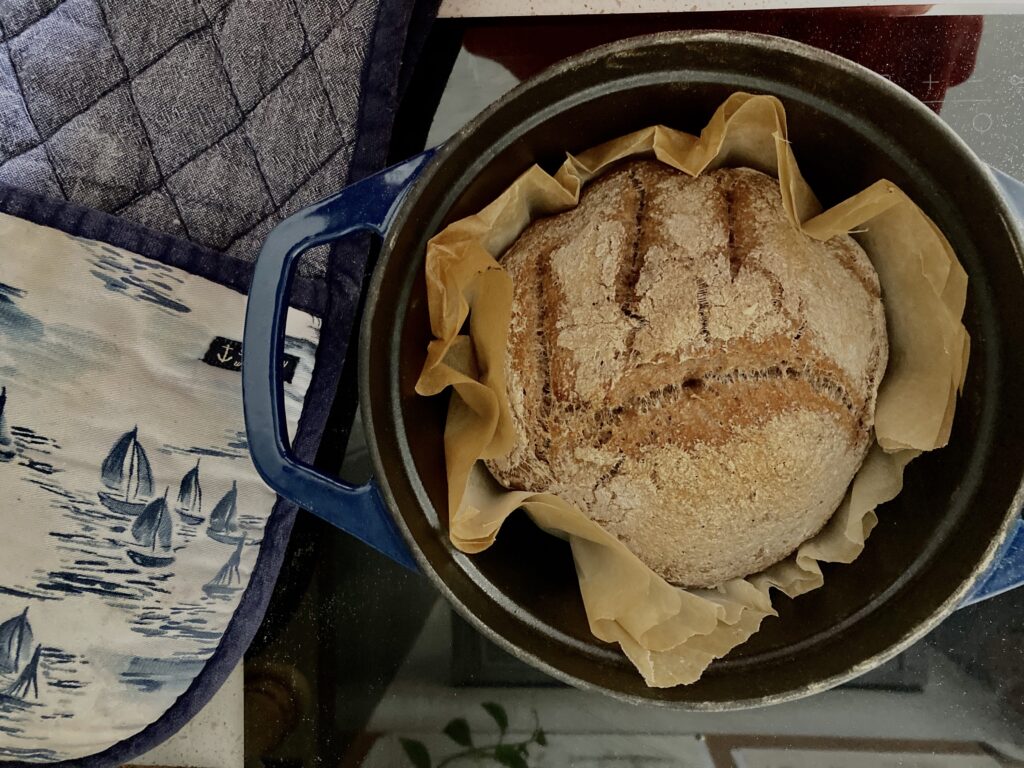 To serve:
Fresh wholemeal sourdough bread: you can find our recipe here — the traditional bouillabaisse is served with croûtons, but we prefer to soak rouille and broth with bubbly bread*

500g red potatoes, peeled and cut into chunks

Take a deep breath, you're now launching yourself into a few hours of smashing fish bones, simmering, whisking mayonnaise. We started with making the broth around 17:30 and were ready to serve around 21:30. First, open a bottle of Pouilly fumée from Loire, display some moroccan black olives and marinated artichokes to nibble.
To make the broth:

Heat the oil in a large casserole and add the onion, celery, garlic, fennel, fennel stalks, bay leaves and thyme. Season with a big pinch of salt. Fry the vegetables over medium heat, stirring constantly, until they begin to soften (about 10 minutes).

Add the peppercorns, fennel seeds, orange peel and chilli. Lower the heat and continue to cook for another 20 minutes or so. You are looking for a soft collection of colours and a delicious smell. Add the saffron and cook over low heat for another 5 minutes, constantly stirring.

Smash up the crab with a mortar or rolling pin and add to the pan, altogether with the meat, shell and juice. Cook for about 5 minutes over a medium heat, stirring often. You should start smelling the crab by now – the sea is not so far anymore! Add the tomatoes to the mixture and stir well for a few minutes.

Add the cleaned sea breams and plaice fish heads and bones to the pan. Smash them up with a rolling pin or a potato mash until you have a mulch of bones, veggies, oil and saffron in front of you. Add the wine and the brandy and continue to mix. Add some cold water so you have plenty of broth: here this is a delicate juggling act. The more water you add, the less flavour your broth will have.

Bring the bouillabaisse to the boil and then turn it down to a fast simmer and cook for about 45 minutes.

*geeky fact: bouillabaisse takes its name from this step. Bouill-a-baisse means to boil and then to lower it down from the French 'bouillir' (to boil) and 'baisser' (lower)*

Skim the surface of the broth if there are any impurities and add half of the cleaned mussels to the casserole (approx. 500g). Wait for a few minutes and taste your broth: how do you feel? Continue to cook until you are happy with the flavour. We added oil and salt to ours and cooked it for another good 15 minutes.

Strain the broth into a bowl. Squish the mulch left in the casserole as you don't want to waste any of the delicious broth. Rinse the casserole and return the strained broth to boil. Put the cleaned and chopped squid into the broth and simmer for about 30 minutes.

Taste your broth carefully: do your final seasoning and set aside with the lid on the casserole.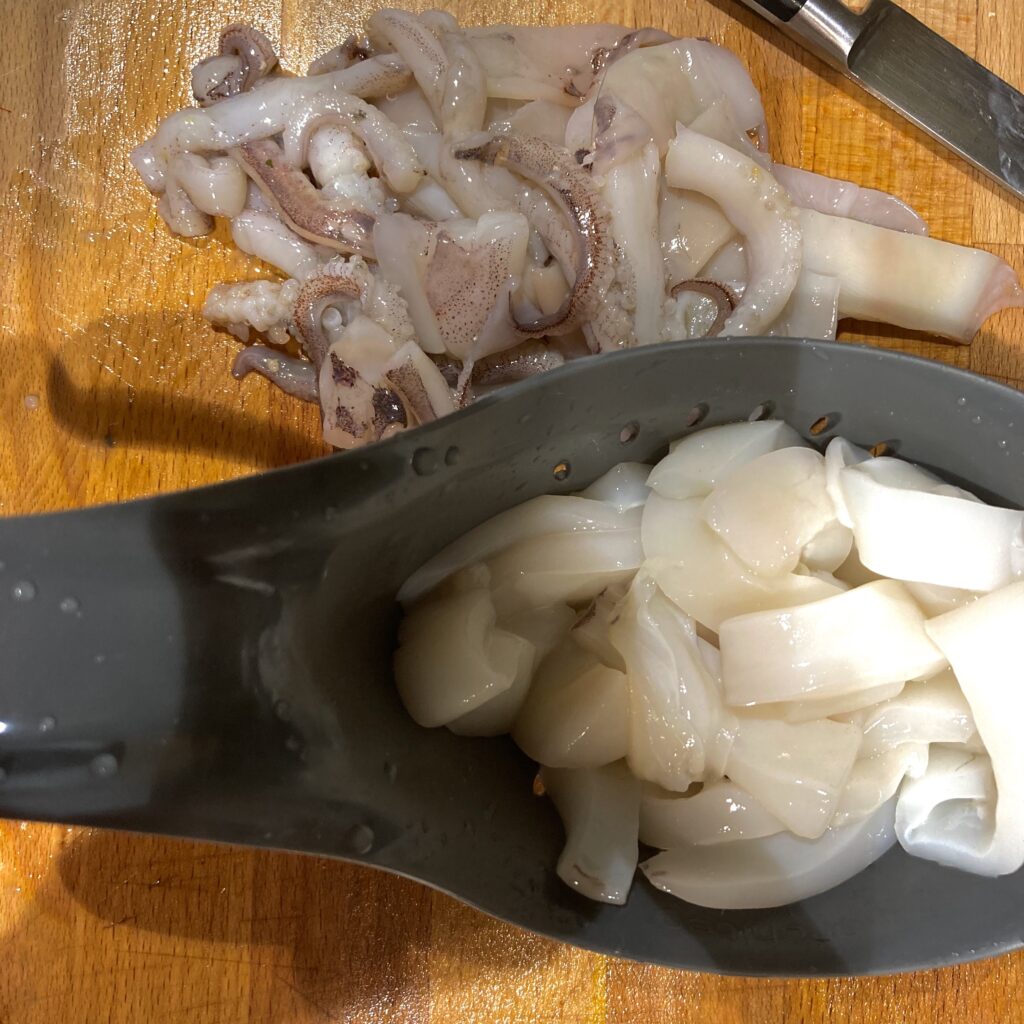 To marinate the fish:

Cut the fileted fish (skin removed) into pieces. Crush the garlic to a paste together with salt, parsley, saffron, lemon juice, vinegar, olive oil and black pepper. Mix well (the result is always better if you rub the fish with your hands) and set aside.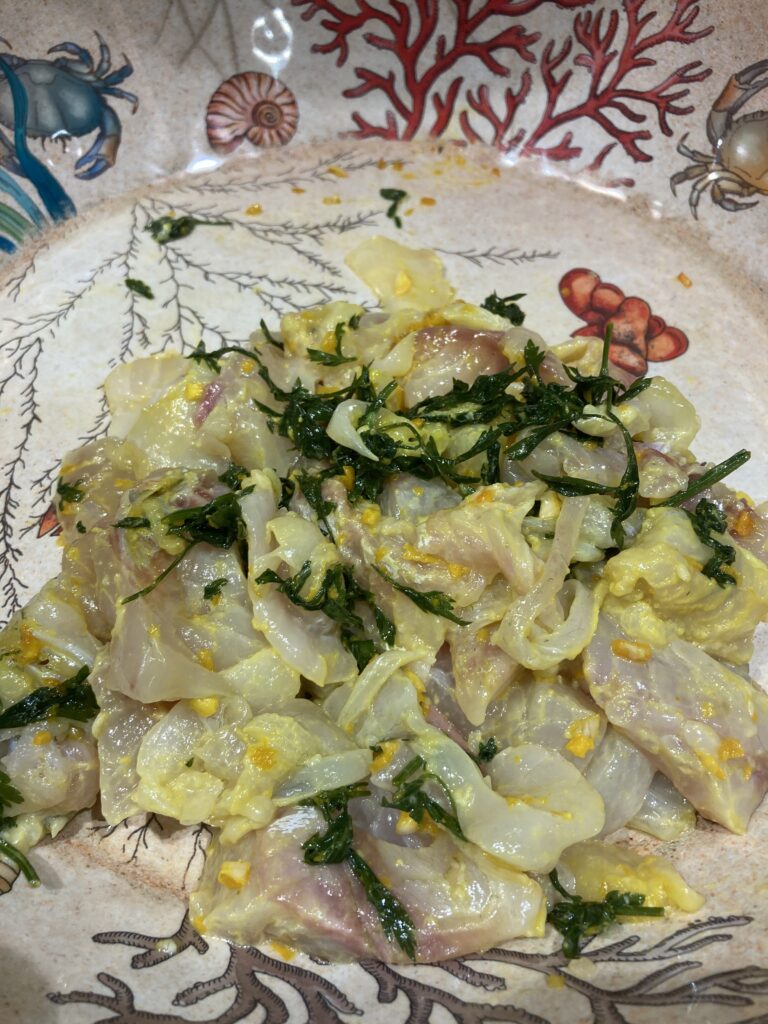 To make the rouille:

Soak the bread in hot bouillabaisse broth and allow to cool.

Crush the garlic together with salt into a white paste. Add the anchovy fillets, saffron and broth-soaked bread and whisk into a thick paste. Add the egg yolks and cayenne pepper as you continue to whisk. Slowly start pouring the olive oil – slowly but at a steady pace – then keep going with the lemon juice and red wine vinegar. Continue to whisk – as you would do with a mayonnaise, although it's important to add your ingredients gradually not to split the mixture. Taste and find your balance between the acidity and the garlic: add more olive oil, lemon juice or drops of water depending on your taste.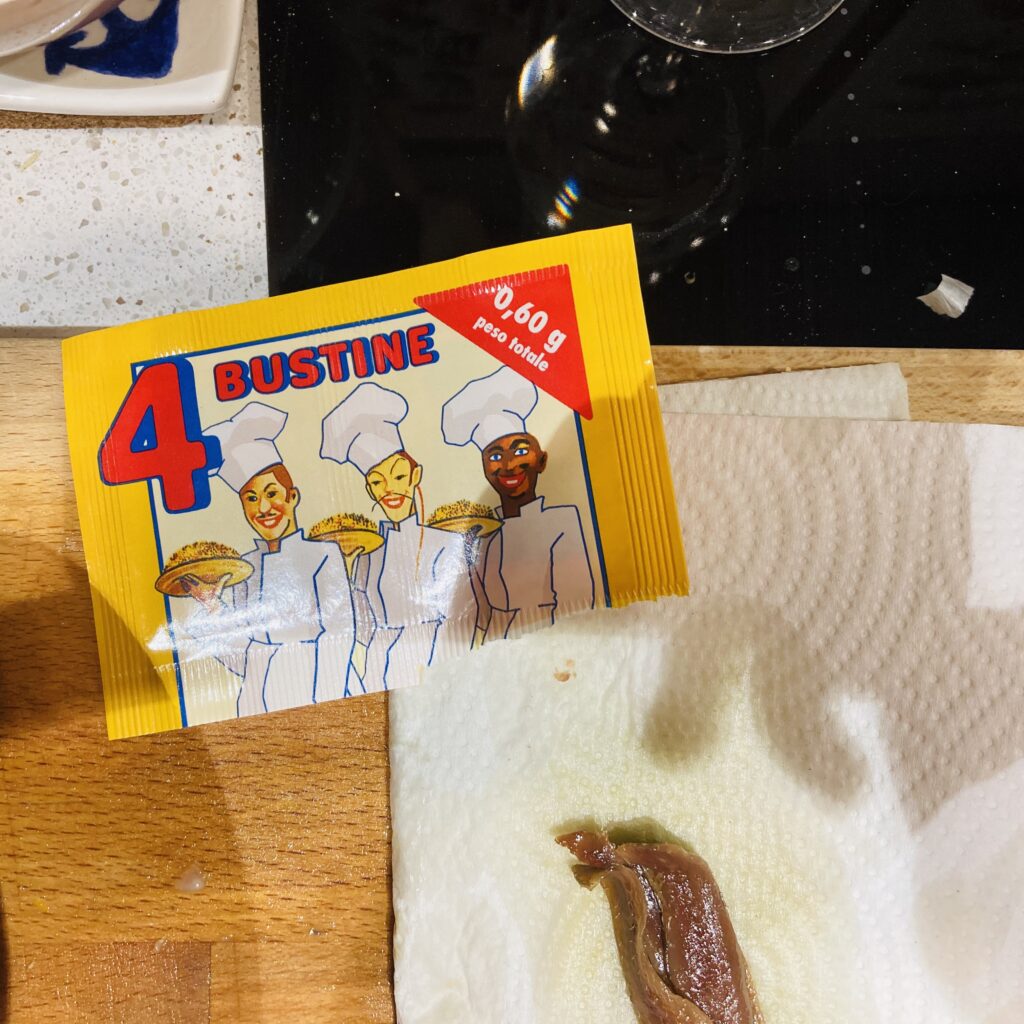 To cook the potatoes:

Pour some of the broth into a smaller pan. If you're scared not to have enough broth, you can do half broth and half water (this is what we did and it still tasted delicious). Add the potatoes and bring to the boil. Cook until you have the potatoes of your dream. Do not drain the broth as you will serve them in their juice.
To cook the fish:

Season the marinated fish with salt and pepper. Poach the fish in the broth and gently simmer for approximately 5 minutes. Add the remaining mussels and the clams and continue to cook until they are open.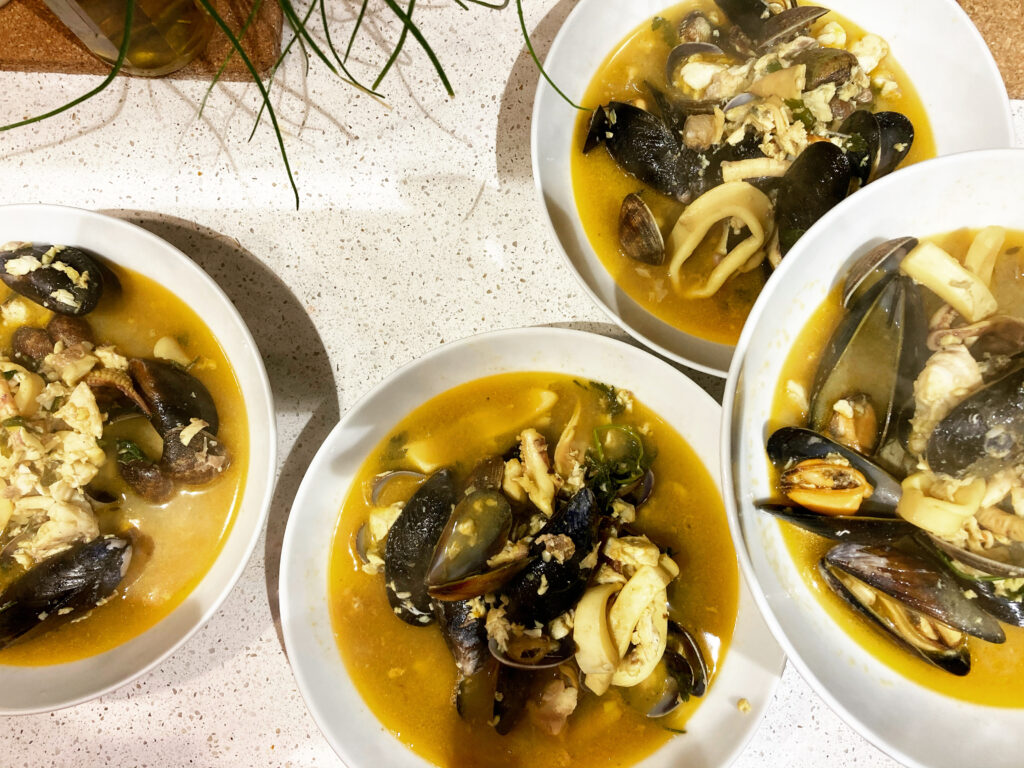 To serve:

The tradition would have seen us serving a fish broth with croûtons and rouille first and then the fish with potatoes, in a second time. The truth is that the salmon pink loves to have it all on the table at once, dipping and sharing and going in for a second round. We dressed the table with a big loaf of bread on a wooden board, the rouille ready to taste throughout, the potatoes swimming in broth in a large serving bowl, altogether in the middle of the table. We served each guest a generous portion of fish and shellfish in their broth.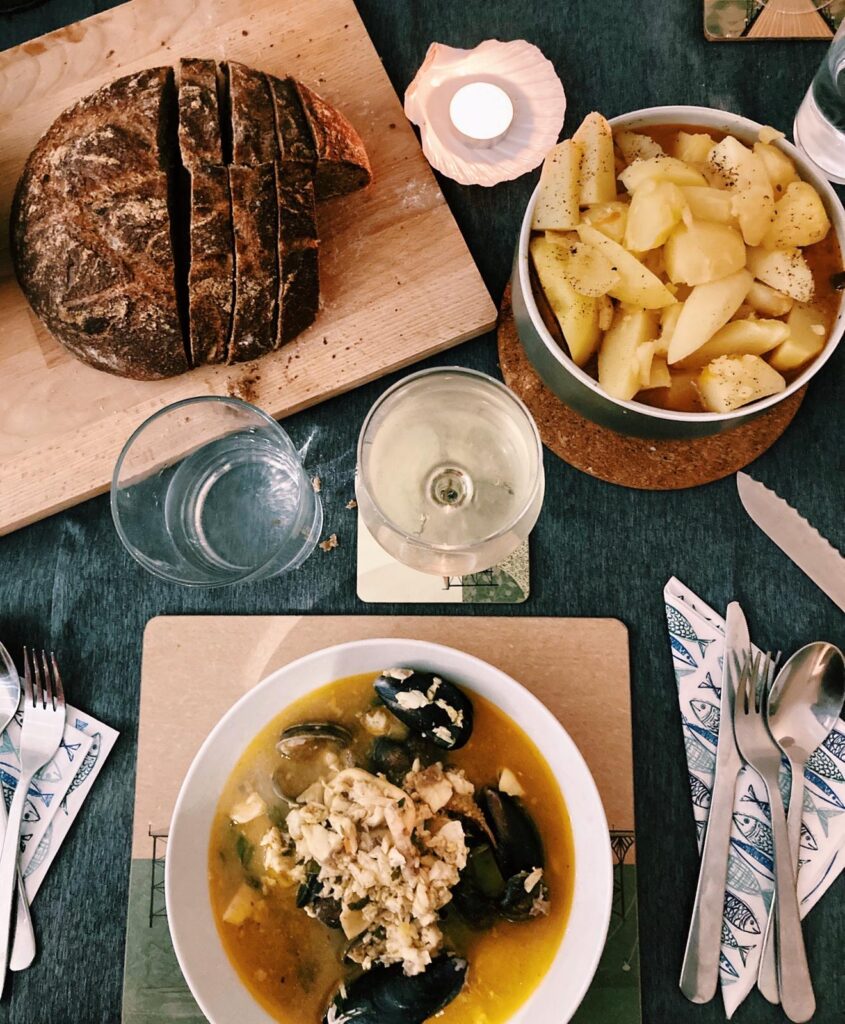 Our salmon pink bouillabaisse was one of the most satisfying dinners we ever had: long, fun labour of cooking followed by a fishy, splashing feast. We used spoons and forks and knives and shellfish for cutleries, serving bowls for sharing, cut more bread, and opened another bottle of wine.
Irene & Margaux