Nutmeg and Parmesan are the beige heart of the food from Emilia Romagna, Italy. They give life to Bologna's tortellini, change the flavour of anolini in brodo and tortelli con la coda from Piacenza, enrich the béchamel that goes into lasagne and pasta al forno, and are added to the mixture used to make grandmothers' meatballs. They are certainly the heart of the soupy countryside dish called passatelli in brodo. Passatelli are worms-like pasta made with Parmesan, eggs, breadcrumbs, nutmeg, a little flour, salt, pepper, lemon zest and served in a meat broth. They smell like my family's pantry, they are nutty and savoury, and they warm bellies with the comfort of stock and the taste of Sundays.
The last time I had passatelli, it was at my flat in London in February 2020. It was the last dinner party I hosted before the pandemic struck and I had written and printed a menu for the occasion. Covid-19 had hit my hometown in Italy and the menu was titled Emilia in honour of my region. Passatelli was going to be our main dish, but I had decided to serve them dry and make up my own recipe. It would have been my first time squeezing the little salty worms out of the passatelli iron tool (which can be replaced by a potato masher with large holes). My friends and I took turns to press the dough into it and press our dinner out of it. The passatelli looked beautiful, though a little frail. Where were my mother's strong Parmesan snakes? We added them to a pot of boiling water and they dissolved.
But not today: today I'm in my mother's kitchen.
All the women in my family have a dish that they cook "andando ad occhio", which means judging by the eye, without measuring the ingredients. Passatelli are one of these "judging by the eye" dishes, so I set off with approximate measurements hoping for the best. I grated about 150g of Parmesan and 150g of stale bread on a box grater. I broke three eggs into a big bowl, whisked them and added a generous amount of nutmeg, a grating of black pepper and two pinches of salt. I then proceeded to add the Parmesan and breadcrumbs, a little at a time. The recipe requires you to feel the dough with your hands and to add accordingly, using touch and sight as guidance. I added two tablespoons of 00 flour and worked the dough until all my ingredients were incorporated. The dough felt much more elastic than my previous attempt, and the kitchen smelled of that special combination of flavour and labour. I wrapped it in cling film and left it to rest in the fridge for a couple of hours.
After that time, I returned to the kitchen table and my father and I took turns at pressing the dough into cheesy worms onto a tray. I looked at the result and picked up one of the raw passatelli to taste. It was just as I wanted it, filling my mouth with nutmeg and Parmesan.
We didn't have time to make meat stock, so we improvised a quick vegetable one. We set the table and added the passatelli to the pot of stock as it boiled. There's hardly any wait involved: passatelli swim in stock and emerge like gnocchi once they are ready. My mother was in charge of filling our bowls with generous ladlefuls of passatelli and stock. We sprinkled our bowls with more Parmesan because we never stop seasoning in our home. 
Spoon to mouth, we blew slightly on the broth. It was hot, but just right. I tasted winter in my hometown, the dishes that have been made for centuries with what's left, taught and passed on to who is left. The ghosts of women past lend a hand as we squeeze our family flavours out of a potato masher.
There they go, into the broth of our collective memory, a lesson learned, one more dish eaten, the taste of home.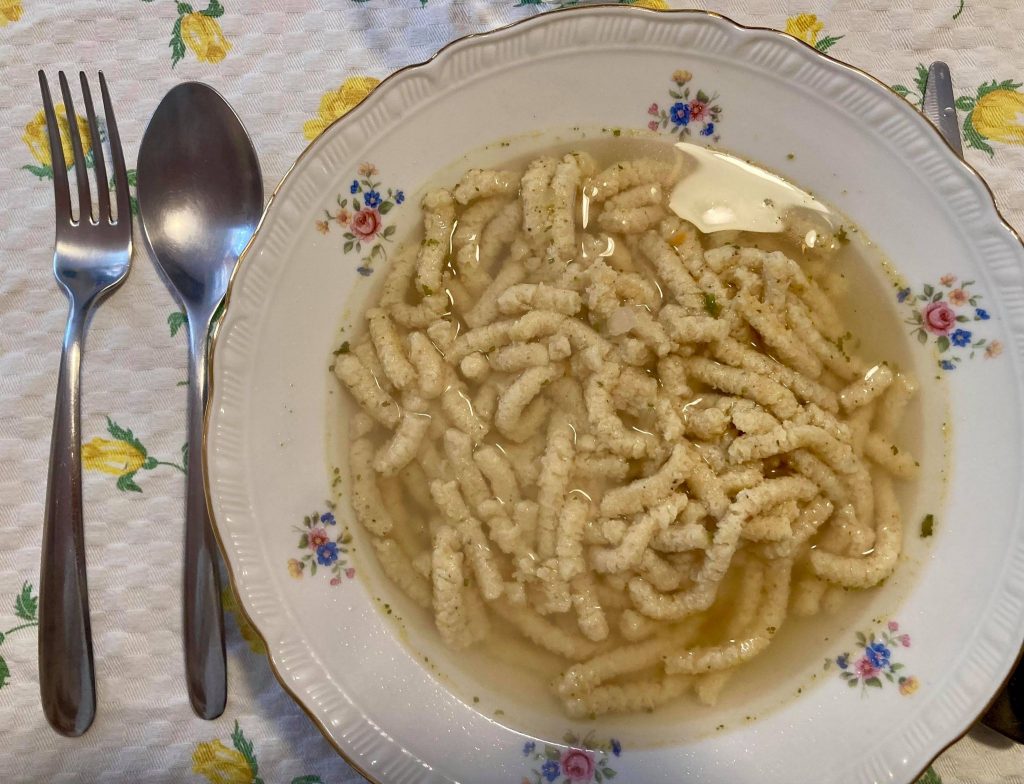 Irene, May '21