As some of you might know by now, we are at our happiest in the Cookery section of Foyles Charing Cross, where in normal times you'd find us taking over a bench with our coats, bags and piles of books to ponder over.
The bonding that happens around a shared meal is even more enhanced by the conversation around it and, of course, by the reading of the stories and recipes that lead us to the said meal.
Cookbooks have been tender companions to the most surreal year we've ever lived. We took countless pictures of recipes to try to send to the other over Whatsapp, we held them open in front of Zoom screens, and we even left a few fingerprints on notable pages while cooking together when allowed.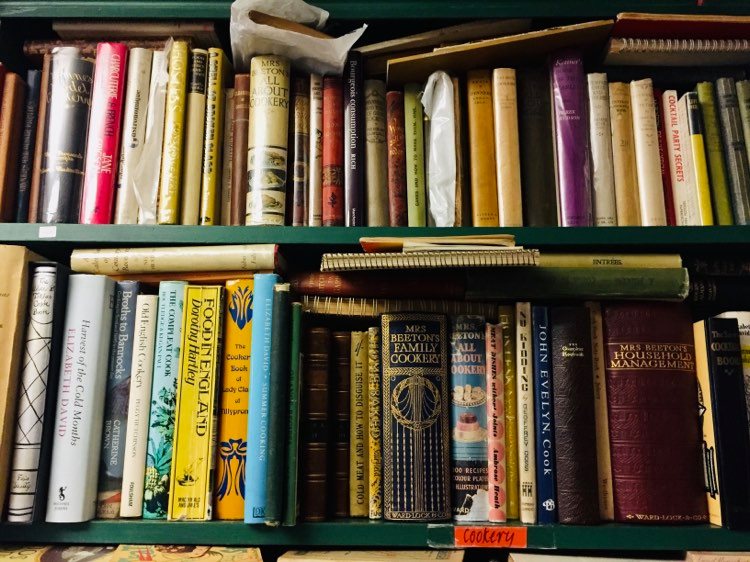 They are a reflection of our dreams at the hob, so here we are, sharing our favourites with you:
Margaux
My first pick is the most recent cookbook I bought, in an attempt to bring a little bit of France in my UK-based home: Sardine: simple seasonal Provençal cooking by Alex Jackson. Not only is this cookbook full of delicious fishy and crème fraîche topped recipes but also the recipes are organised in seasons, my favourite kind of cookbooks.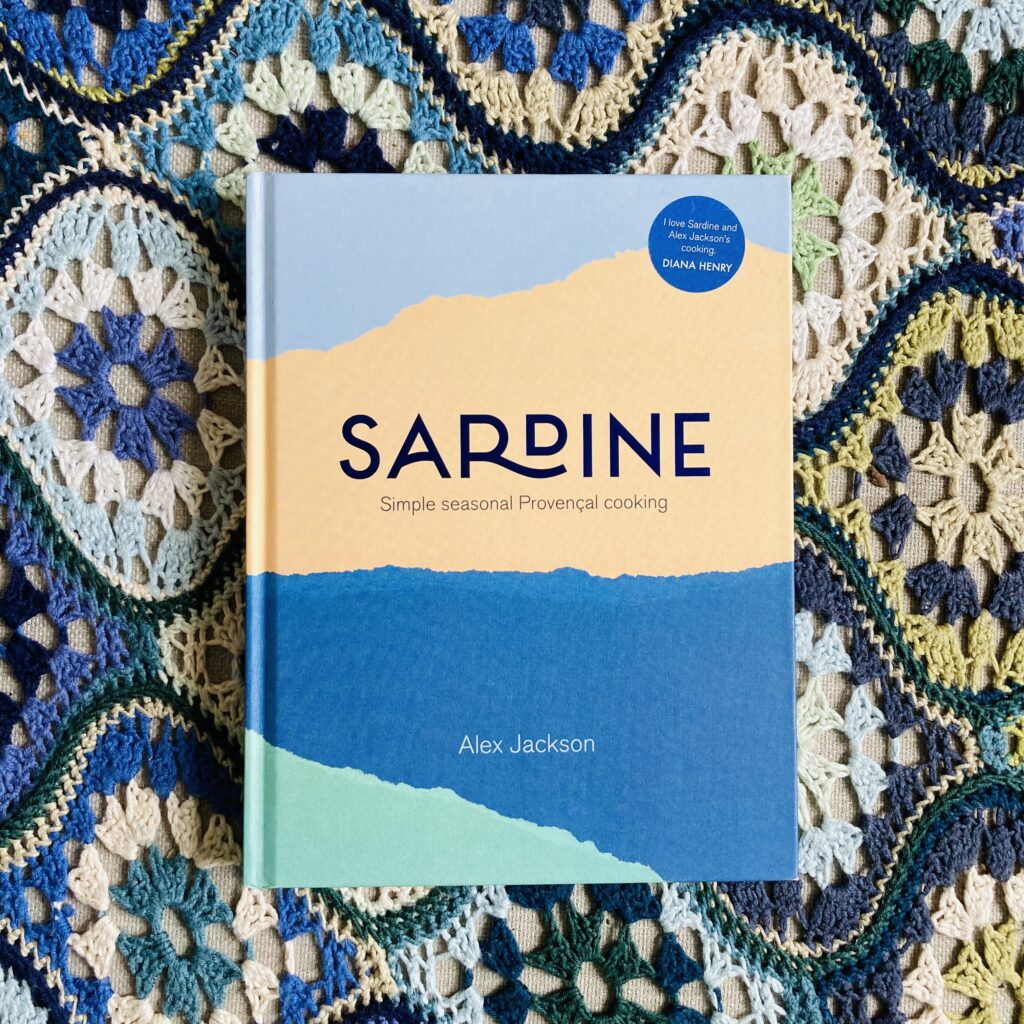 I adore a seasonal cookbook. On one of the first days of each season, I sit at my kitchen table and I pick all the recipes I want to experiment from this new chapter. My picks for this Autumn are:
– Black fig and tomato salad (cooked and approved!)
– Sardines stuffed with Swiss chard & pine nuts
– Squash & mussel soup
– Poached halibut, spinach & saffron butter sauce
– Girolles, grilled polenta, spinach & crème fraîche (cooked and approved! – this recipe marks the first time I ever had polenta, and I won't share how many times I've had it since)
– Swiss chard & anchovy gratin (cooked and approved!)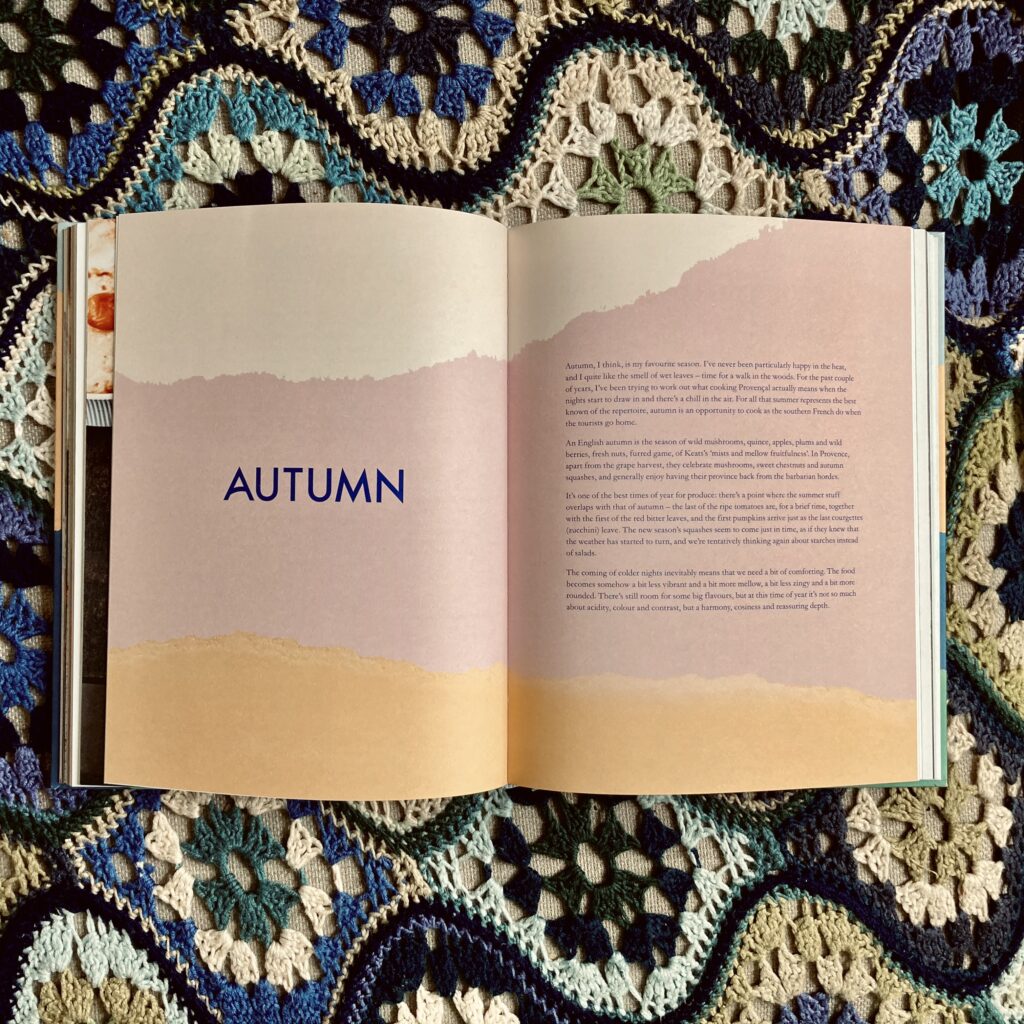 Each season also ends with a 'grande bouffe,' which is a challenging and indulging four-course menu. I love that! Each feast is introduced with a short piece of writing, for context and history, and features beautiful illustrations. The Spring bouffe is what inspired us to host our salmon pink Bouillabaisse, about which you can read here.
Sardine: simple seasonal Provençal cooking by Alex Jackson is published by Pavilion Books.
My second is the most stylish cookbook I own, so precious it scares me how many oily and saucy recipes it offers! That's Russell Norman's Polpo: A Venetian Cookbook (of sorts), featuring Jenny Zarins' photos.
This is the kind of cookbook that feeds me and makes me travel, from an introduction to Venice and a short tour of the city's bars and restaurants, to quick and more elaborate recipes, as well as a drinks section.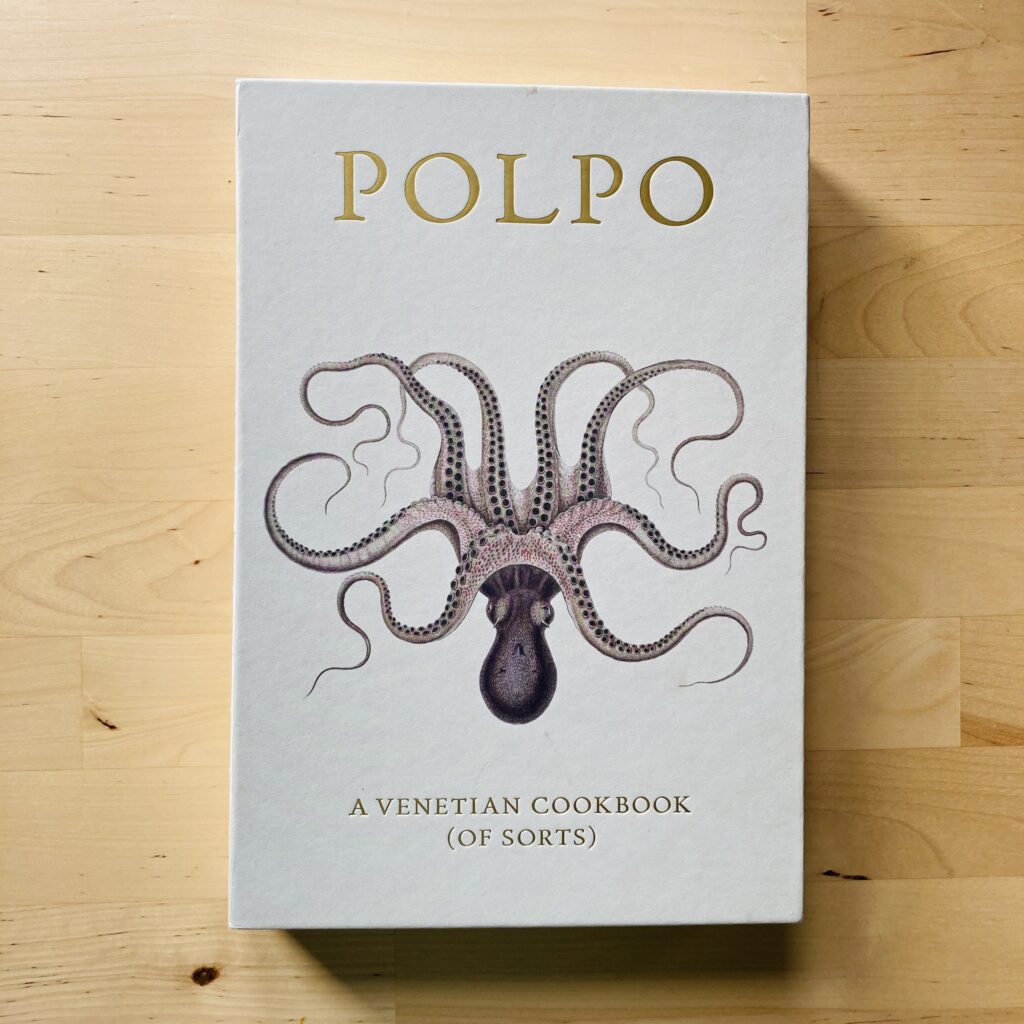 One fact I found comforting as we miss the brouhaha of socialising: 'Bàcari are the closest thing that venetians have to the British pub or the downtown New York bar. They are meeting places for locals, social hubs where you go for a drink or two. You will find politicians rubbing shoulders with market traders, gondoliers chatting to university professors, and the conversation will range from politics to football, nostalgia to gossip.'
In a bàcaro, Russell Norman tells us, you'll find Chichèti: small snacks that sit in a glass cabinet on the bar. I'm hanging tightly to the idea of hosting a bàcari themed dinner party in the future.
In the meantime, the pasta, beans & rosemary oil has become a favourite of mine. Warm and tomatoey and beany, this is the perfect dinner for a cold Tuesday. This is a soup really, but a thick one. It can be made with different kinds of pasta – at Polpo, they use macaroni – but I use orecchiette. I love that the borlotti beans fit nicely in their little caps, it gives this dish a homey feel.
Another tip: make extra of the rosemary oil. It's delicious and will be the perfect seasoning for your salad the next day. And you want to add some garlic as well.
This weekend, I'm experimenting with one of the desserts: a flourless orange & almond cake. Yum! I'll do what I always do with baking, switch some of the things around (for sure, mascarpone will become crème fraîche and some pistachio will find their way to my kitchen counter!), and I cannot wait to quietly sit in front of the oven as the cake will rise.
The Polpo cookbook is published by Bloomsbury.
Irene
My first pick is a book I've read back to back at bedtime in the summer of 2019. Midnight Chicken (& Other Recipes Worth Living For) by Ella Risbridger, gorgeously illustrated by Elisa Cunningham, was the turning point of my interest in cookbooks and food writing. Ella writes about food like a poet and a best friend, while telling a story of love and healing through cooking.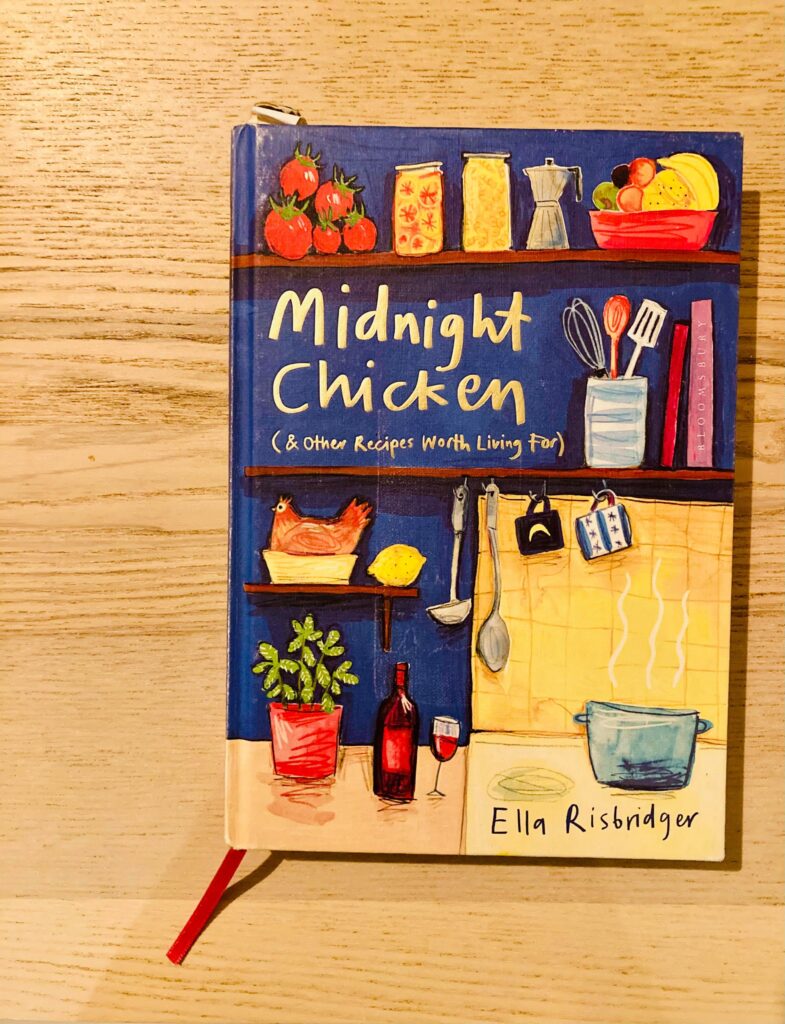 Almost every page is marked with a sticky note, and I'm realising as I type how many more recipes I need to cook from it (on it!), but here are some staple favourites:
– Uplifting Chilli and Lemon Spaghetti – the first proper recipe cooked in my current kitchen to make it feel like home
– Blackened Broccoli & Bittersweet Almonds – cooked every time I've used broccoli as a side, yet to try them on toast as recommended in the book
– Slightly Charred Cauliflower Cheese – cooked in the salmon pink kitchen on a book club weekend, scooped out with the biggest loaf of bread ever seen and red wine
– Stuck in a Bookshop Salmon & Sticky Rice – one of my favourite recipes of all time, it's the definition of mouthwatering
– Midnight Chicken with Marky Market's Creamed Leeks and Sticky Cumin and Orange Carrots – the main and sides cooked for a pre-Christmas lunch with friends last year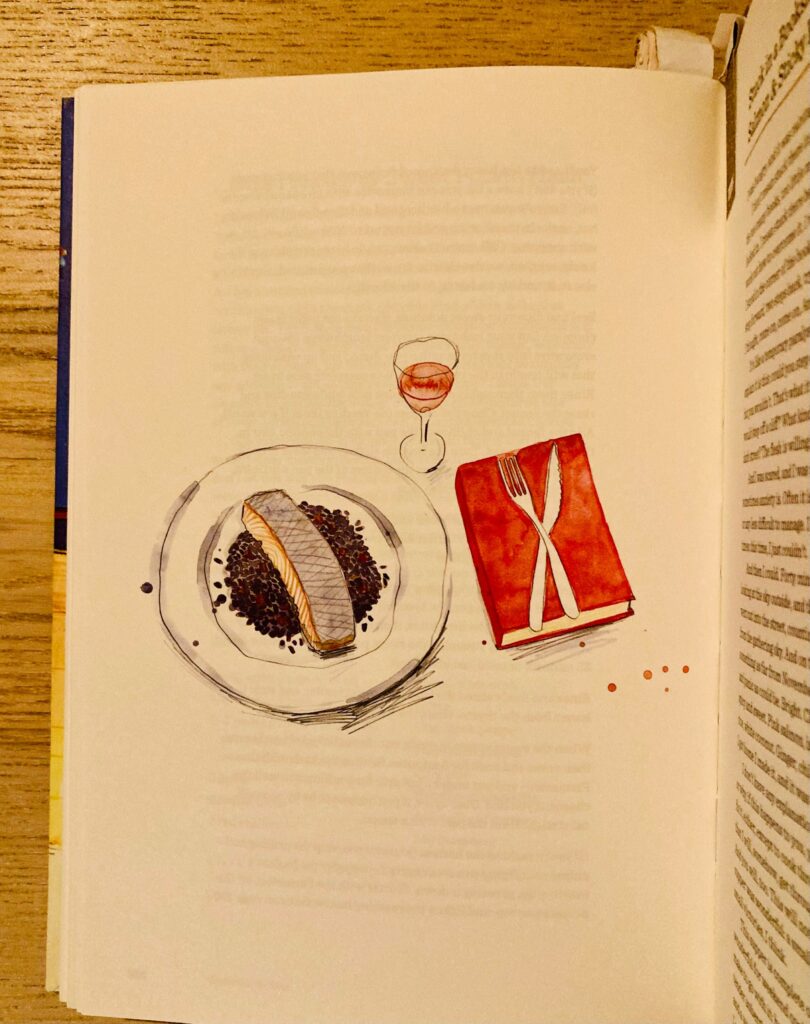 I adore a cookbook that is as much about life as it is about recipes, one to share with loved ones, to move from kitchen to kitchen, to then find it again, welcoming and familiar with the notes of your past hungry self.
Midnight Chicken is published by Bloomsbury and it will be out in paperback by the end of the year, you can pre-order it now from your favourite indie bookshops!
My second pick is, coincidentally, a book published and read over the summer of 2020, one that couldn't have been more different from the previous year's. Summer Kitchens by Olia Hercules, with photographs by Elena Heatherwick and Joe Woodhouse, is the kind of book that I carry over the flat under one arm at least once per day. I am, quite frankly, in love with it.
The book is filled with the history and memory of Ukrainian summer kitchens, it's a hymn to Ukraine's territory and cuisine, to traditions of a slower pace of life and seasonal patience, such as the art of fermentation.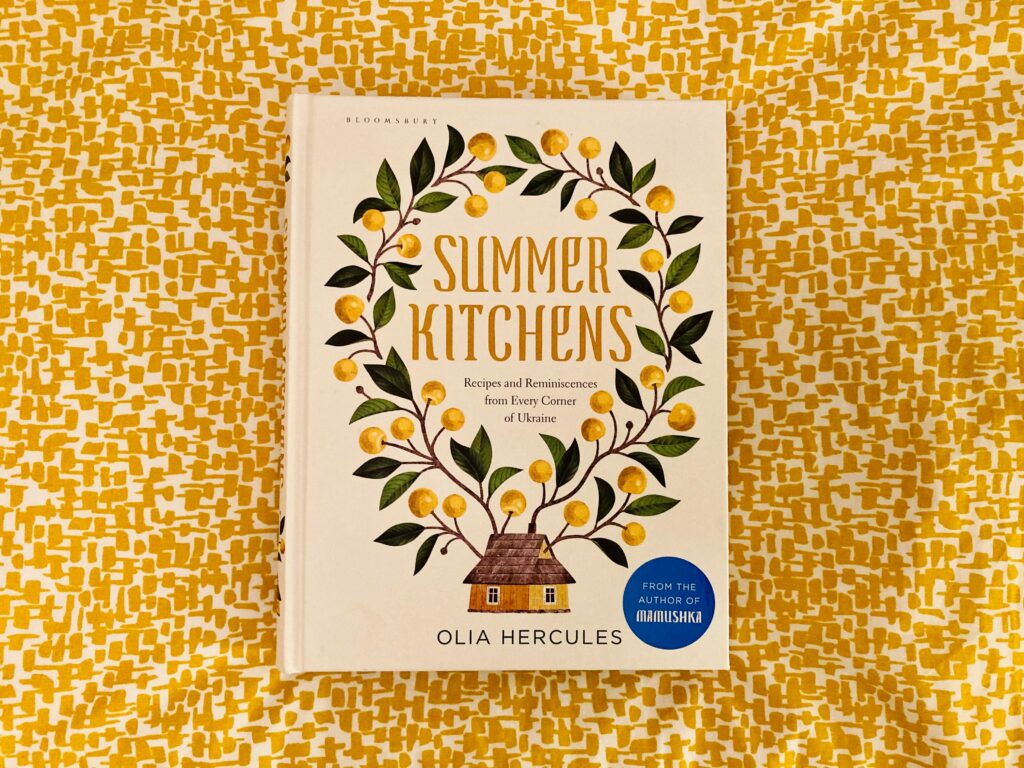 Olia's recipes make you feel hungry at every turn and her essays are some of the most beautiful food writing you'll find today. It's the joy of cooking and eating and discovering that you'll find on every page of Summer Kitchens, I can't recommend it enough.
Every weekend, I turn to page 156 and bake Olia's sourdough bread. It's become a homely ritual, I'm not a confident baker and I have terrible memory for instructions, so the comfort of that page comes in, timely, each week.
Here's a mix of the recipes tried and the ones I'm longing for:
– 'Rock and roll' pancakes – I think this weekend might be the one
– Whipped garlic salo on rye – this recipe takes me back to restaurant meals from my childhood in the province of Piacenza, where the typical Pistà ad Gràss was served as a starter
– Borsch with duck and smoked pears – I have been lusting over the photo of this dish since I first opened the book, definitely one for this winter
– Split pea and bread soup – it screams comfort
– Spelt dumplings with kraut and caramelised onions – trying them out this weekend!
– Courgette fritters – a staple of the past summer suppers
– Fried tomatoes with garlic and cheese – gorgeous, tried with green tomatoes and a mix of Parmesan and Pecorino
– Fishballs in tomato sauce with creamy mash – cooked on a gloomy Tuesday night, ended the day with big smiles
– Potato-dough dumplings with plums and honey – this looks like my kind of dessert as I adore plums and I'm fascinated by the potato dough
To give you a taste of Olia's sensual writing, this is how she writes about tomatoes: "Gigantic, scarred pink tomatoes are used with abandon." And I needn't say more.
Summer Kitchens is also published by Bloomsbury.
Happy weekend salmons!
Irene & Margaux