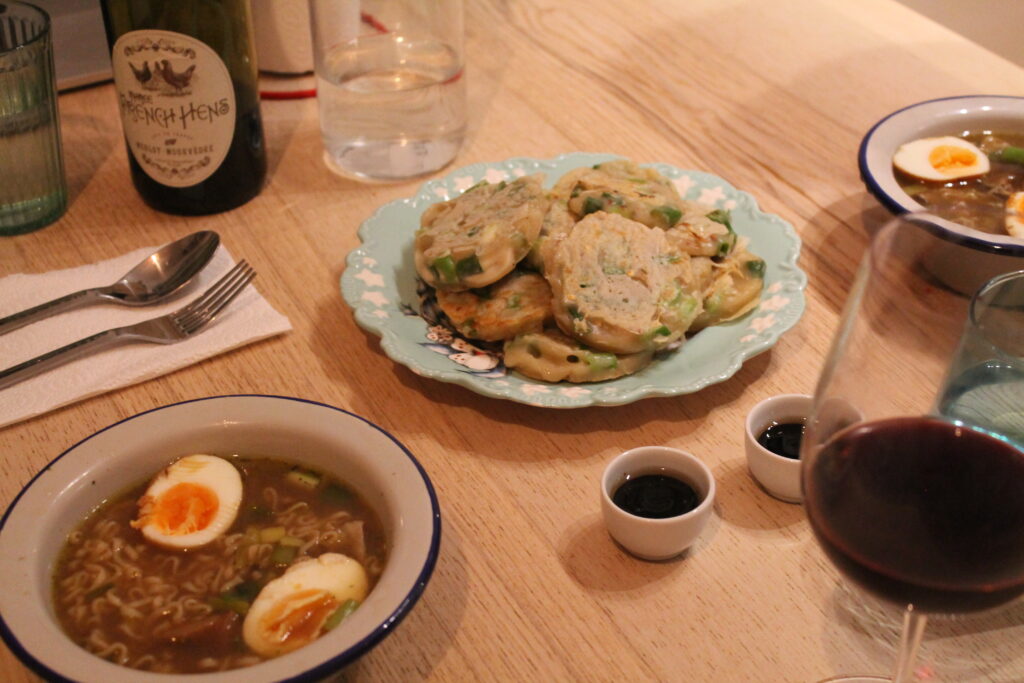 Since we're reading Riku Onda's The Aosawa Murders this week (see our latest Instagram book recommendation here), we have decided to travel to Japan via our kitchens too. You'll remember from our logo reveal that the day we started plotting our design, we cooked a Japanese feast for two. Well, we're inviting you to join us this time, with a mushroom and spring onion ramen for main and sweet potato cakes for dessert.
Mushroom and spring onion ramen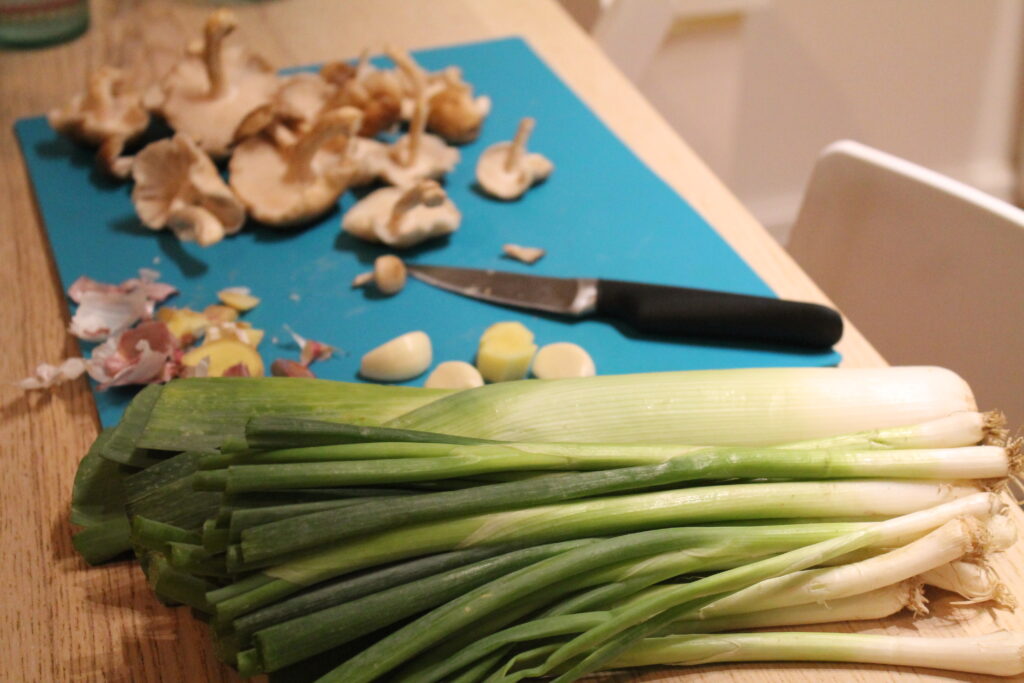 Ingredients for 2 (with leftovers):

Dashi powder to make Japanese soup stock – use vegetable stock if you want to keep it veggie
Water
Ginger
2 garlic cloves
4 spring onions
2 packs of ramen noodles
2 tsps of miso paste – we used red miso
Soy sauce to taste
1 pack of shiitake mushrooms
2 eggs
Sesame oil
Method: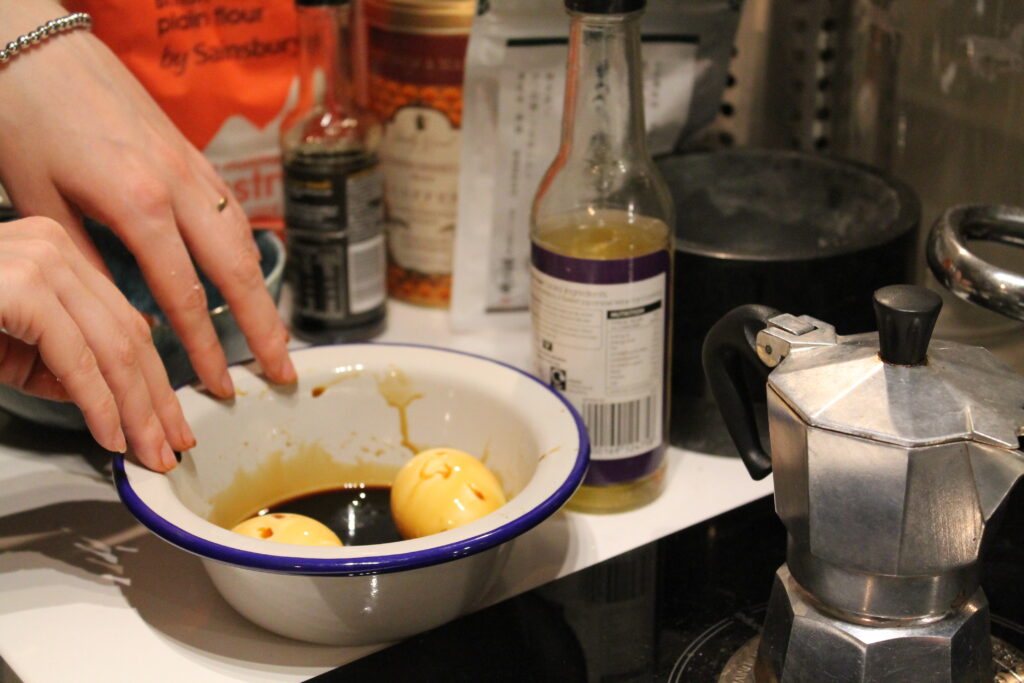 The essence of good ramen lies in its broth, so dedicate as much time as possible to your stock. Boil the kettle and open your dashi powder, familiarize with the smell and taste. Dashi is usually made from kombu (dried kelp), katsuobushi (dried bonito flakes), iriko (anchovies), dried shiitake mushrooms. The one we used was a combination of all, so it gave the stock a great umami flavour. Add the water and powder to a big enough pot to fit the noodles and mushrooms later. Bring to the boil and leave to simmer for as long as you can.

Boil another pan of water and cook two eggs for 6 minutes. Place in a bowl of ice and cold water to stop them from cooking while you peel them. Add them to a bowl and cover them in soy sauce (or tamari), cover and leave in the fridge to marinate for 1 hour.

This is the moment you take your Asahi out of the fridge and put on an episode of Pure. It's also when you start tasting your stock. We like to do this with a vintage gravy spoon Irene bought in New York for some still unknown reason. We feel a lot more like Julia Child when doing it this way! If it tastes on the sweet side, start adding your miso, you can melt the past in water first and then add it to the main pot. Throw in a bit of soy sauce for good measure. Taste again. If you're happy, cover it and leave to simmer.

Let's get chopping! Peel your garlic cloves and ginger and chop them finely. Remember to remove the green part inside the garlic cloves, this will help digesting garlic when eaten. Wash you spring onions and mushrooms and chop them too.

Heat up some olive oil, add the garlic and ginger and let them cook for a few minutes. Add the shiitake and leave it for about 10 minutes, stirring occasionally. Add half the spring onions and turn off the heat.

Take the eggs out of the fridge, cut them in a half.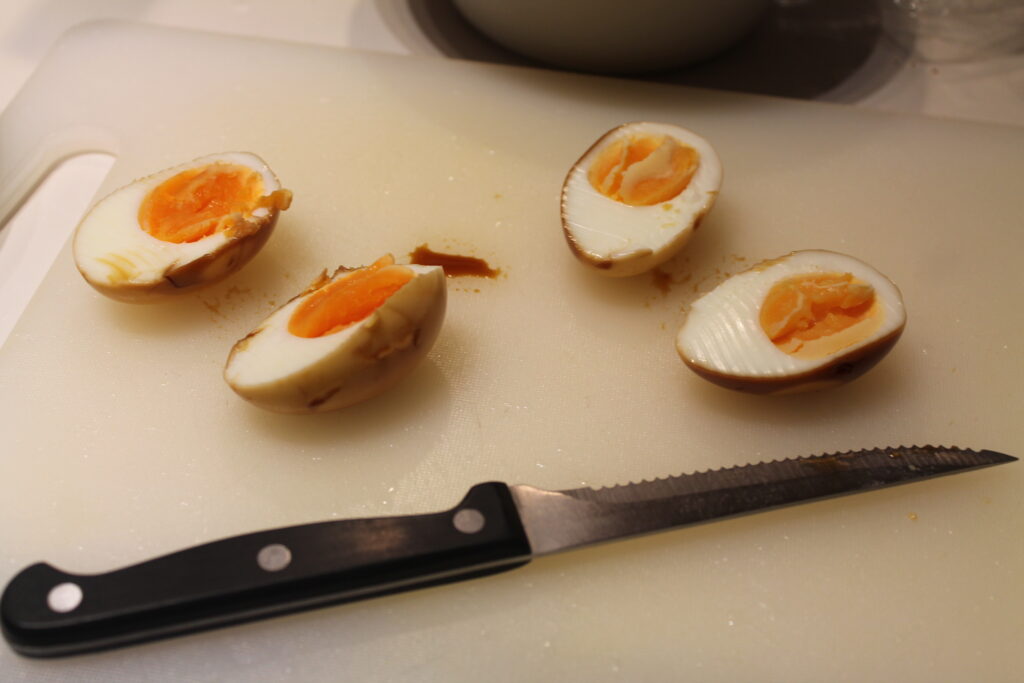 Taste your stock again, does it hit all the spots? If so, add your mushrooms mix and stir, bring back to the boil and cook your ramen noodles directly in there, as per pack instructions.
Fill two bowls generously, garnish with the remaining spring onions and your marinated eggs. Get ready to warm your soul and tastebuds.
Sweet potato cakes
Ingredients (make 8-10 cakes):

400 g white sweet potato
40 g lightly salted butter
50 g sugar
2 tbsps evaporated milk
30 ml whipping cream + 1 tbsp extra
1 egg yolk
Method: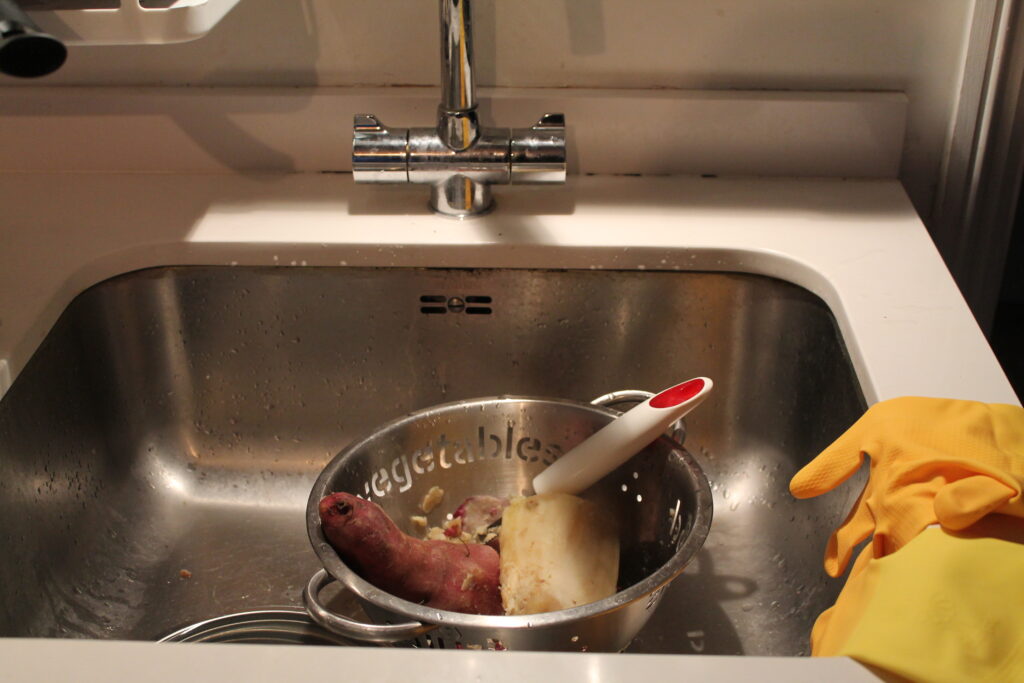 Preheat the oven to 200C fan and line a baking tray with baking paper.

Bring water to boil in a large saucepan. Cook the sweet potatoes until they are completely tender in the middle. It should take between 20 and 30 minutes. Once the potatoes are cool enough to handle, peel them. Chop them roughly and place in a bowl with the butter.

With the help of a stick blender (or a hand masher), mash the potatoes until you obtain a dense paste. Slow down: you don't want to overmash it – it needs to be consistent.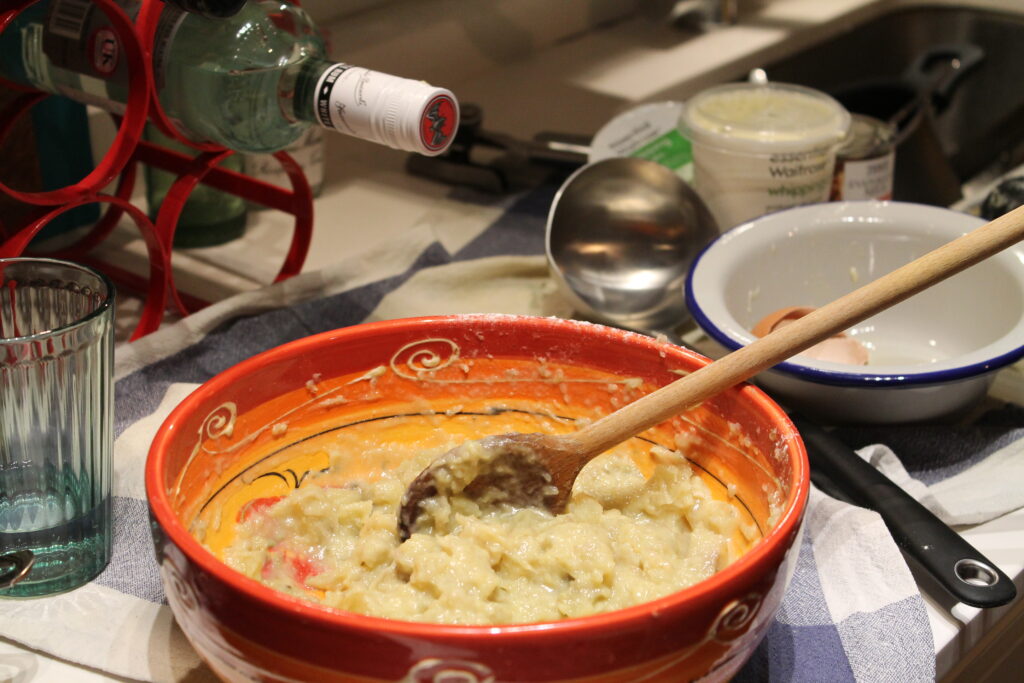 Incorporate the sugar, evaporated milk, whipping cream and half of the egg yolk (hold on keenos: you must save the other half for the next step!). Mix until smooth. A wooden spatula or spoon works best here.
To make the glaze, mix the other egg yolk together with the extra tablespoon of whipping cream.
Shape the sweet potato mixture into diamond-like shapes (precious!). They should be about 10 cm long so you have 8 or 10 cakes. Place them on the baking tray and brush with the glaze.
Bake for about 10 minutes or until the sweet potato cakes are golden brown.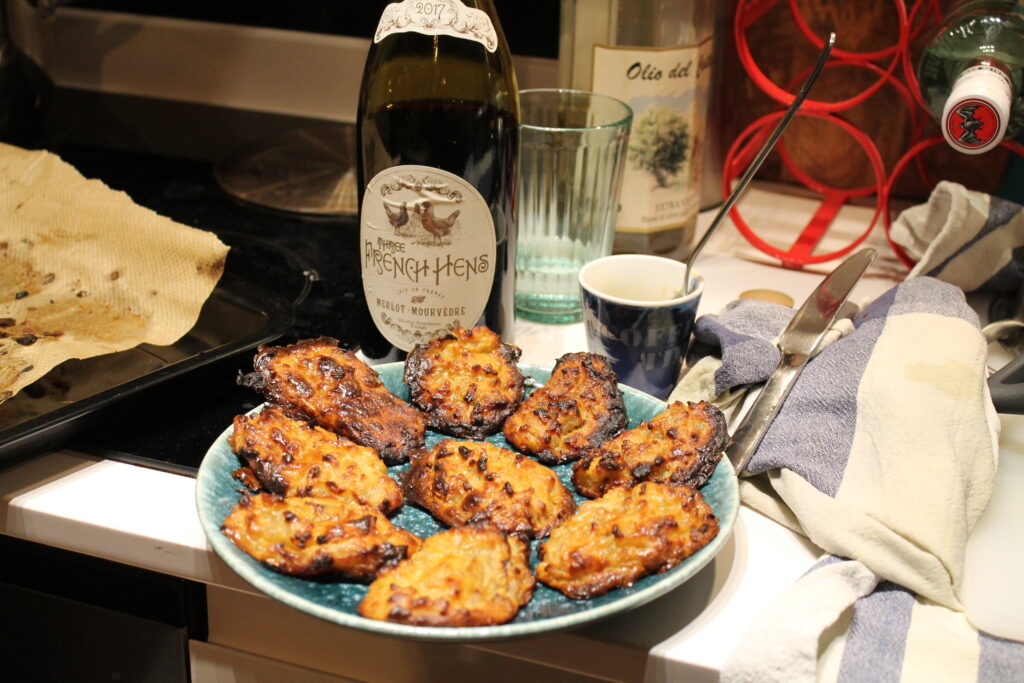 Would you like another bottle of Asahi with your meal?

Irene & Margaux