We thrive on feeding. To feed is more than to simmer and goes beyond chewing—to feed from the salmon pink kitchen is to host. One pleasure we've greatly missed throughout this lockdown, is the one to throw a dinner party. We dearly miss writing menus and their attached shopping lists, running through the supermarket allies together, cooking in a messy kitchen, and setting up the table. We love the chatters, glasses clumsily chucking against one another, the knives sliding before a strident echo at the end of a meal. We miss the prepping and we long for a meal to happen in togetherness, tongues loosening as courses reach the table.
A few weeks ago, we watched and recommended Elizabeth Carroll's documentary, Diana Kennedy: Nothing Fancy. We took much away from Kennedy's kitchen, from sustainable tricks to the movements of the busy Mexican streets, on to how to cook rice. But the advice that stayed with us the most, is Diana Kennedy's plea against the shopping list: one should explore the market and smell which veggies and fruits are fresh and in season first, and then plan their menu accordingly.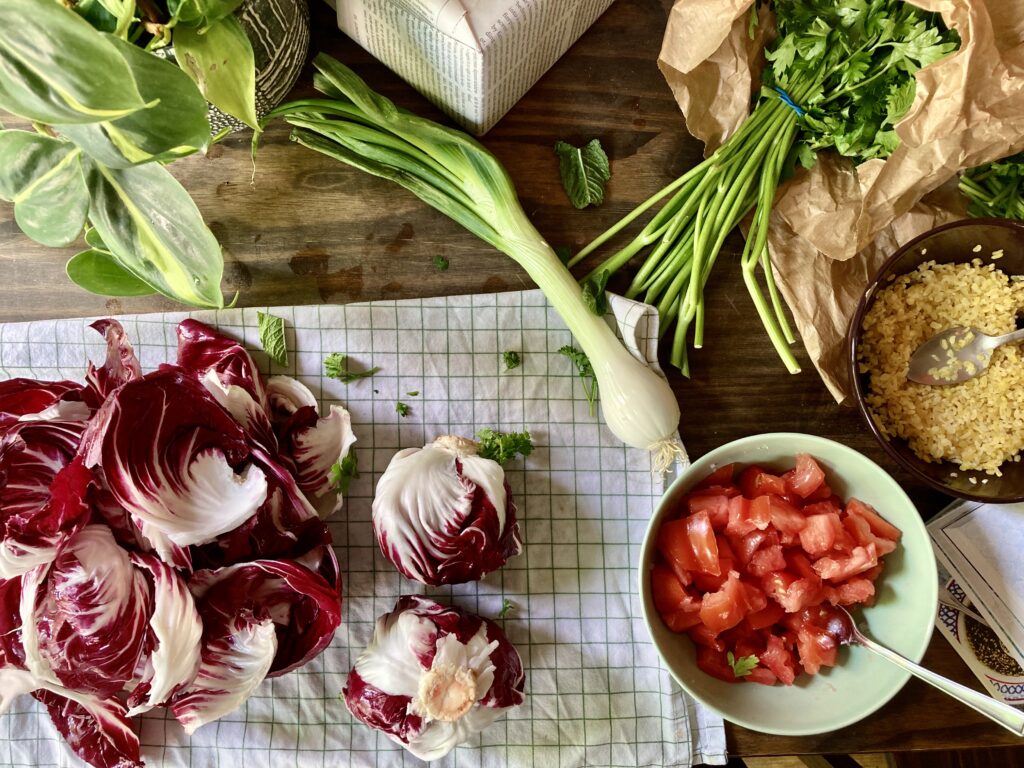 Never have we ever been so tied-in to weather conditions than this past spring and now summer. Lockdown in the UK is loosening but, until last weekend, we were only allowed to meet in parks. We had our first in-person reunion under an astonishing 30 degrees, and our next one under the rain, soggy pastries left in our hands. We've learnt to smell and to feel again, as our senses soar, claustrophobic in our silent kitchens, thus taking us all the way to our new favourite seasonal hosting: picnics.
We're having to adapt the way we cook: dishes must be safely shareable and transportable in boxes. Nothing that melts during warm days, flavours that don't get corrupted from the wooden, disposable cutleries. We're learning to pair vegetables together with fruits, to align seasons with acidity, to adapt our vinaigrettes to the feel of herbs. Picnics have become our window to the world: from filling up our basket at our local green grocer, to chopping and peeling vegetables with the radio in the background, on to sharing a meal together, circling around a picnic blanket.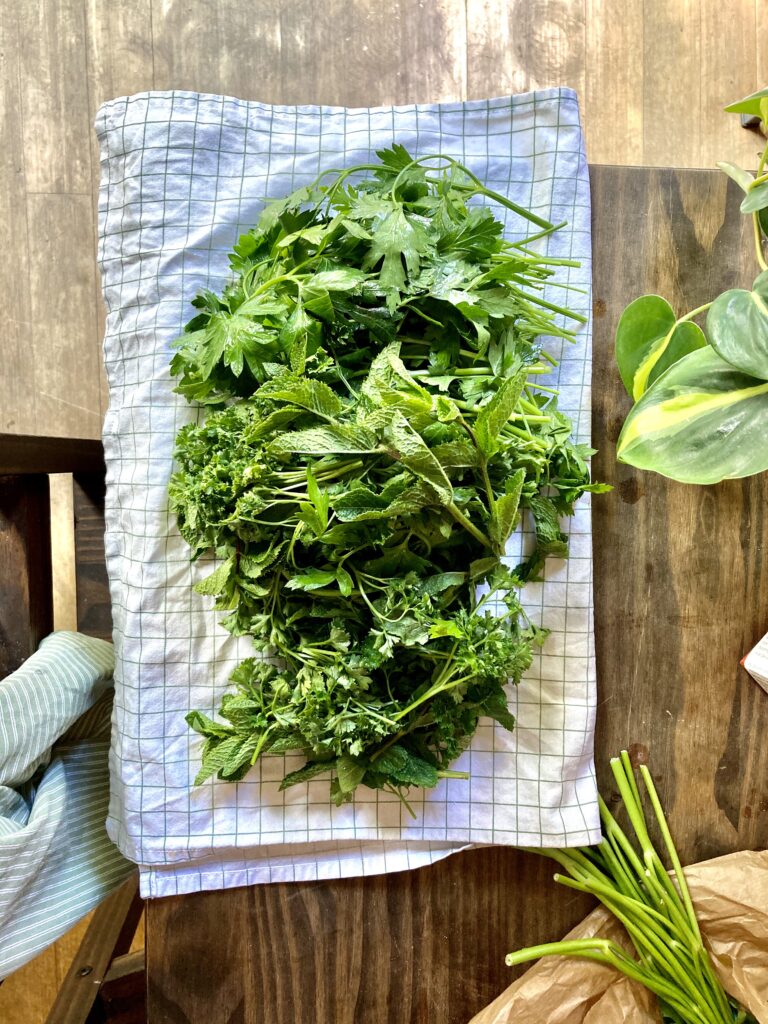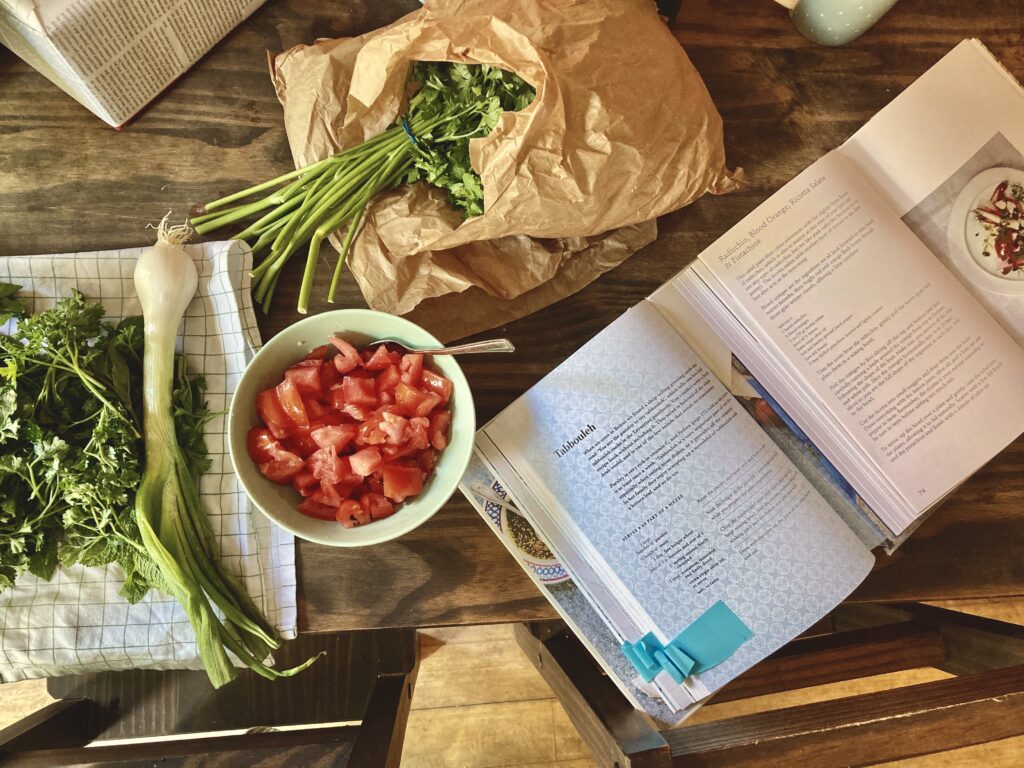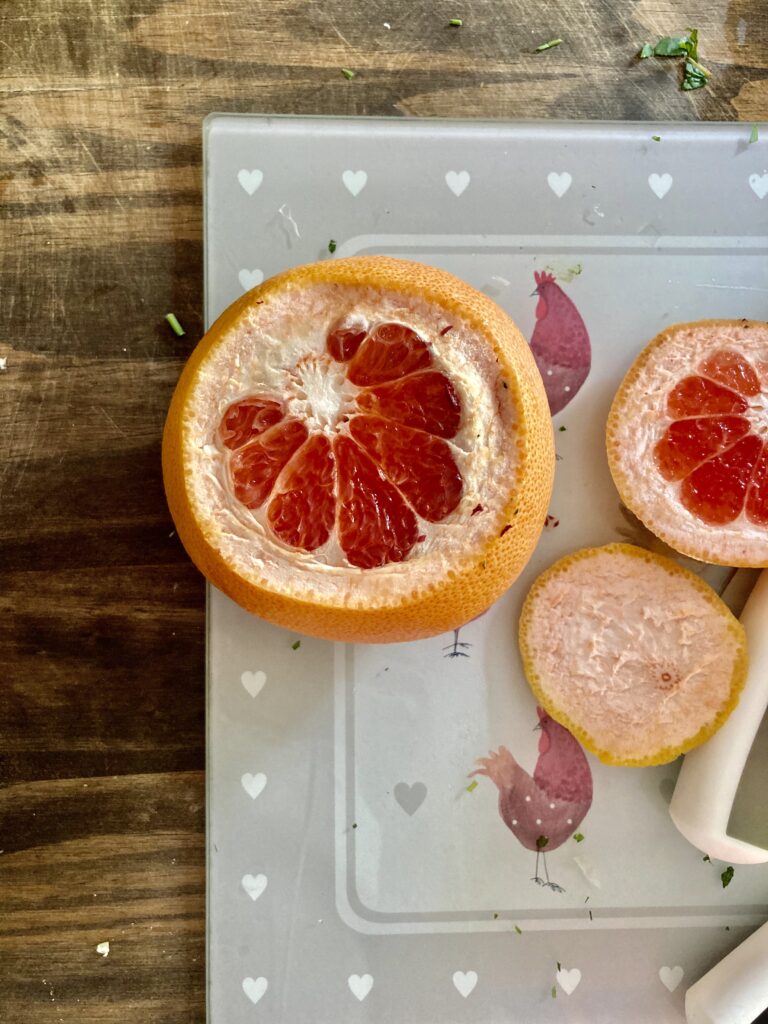 Our latest picnic was in celebration of Irene's birthday—and of what she is to Margaux, a load of warmth and tenderness.
Irene's birthday picnic:

Goat's Cheese and Spinach Tart
Radicchio, Grapefruit, Ricotta Salata & Pistachios
Butter and Edamame Beans, with Parsley and Garlic Vinaigrette
Tabouleh
Pear, Blue Cheese, Basil and Walnuts salad
Fresh black olives
Camembert
Baguettes
Today, we wanted to share an easy recipe for a champêtre goat's cheese and spinach tart –
Ingredients:

1 rolled puff pastry (at room temperature)
450g spinach, frozen or fresh
150g goat cheese
3 eggs
25cl crème fraîche
1 tbsp honey
S&P
Method:
Preheat the oven to 200C fan and line the puff pastry in a lightly greased tart dish.
Defrost or cook the spinach, placing them in a strainer on top of a pan with boiling water. Do not salt the water as the cheese is already salty enough. Dry your spinach thoroughly.
In a mixing bowl, beat together the eggs and the crème fraîche.
Set aside 3 or 4 slices of cheese for decoration and add the rest of the cheese to the preparation. Mix well.
Flavour with a spoon of honey, salt and pepper, adjusting amounts to your taste. Be careful with salt: goat cheese is salty already. Tip: Margaux likes to replace the spoon of honey with one of mustard.
Finally, stir the drained spinach to the preparation and mix well. Pour the mixture on top of the pastry and add the remaining slices of goat's cheese on top.
Bake for approximately 30 minutes. You can lower the heat to 180C for the last 10 minutes if the top appears to golden too fast.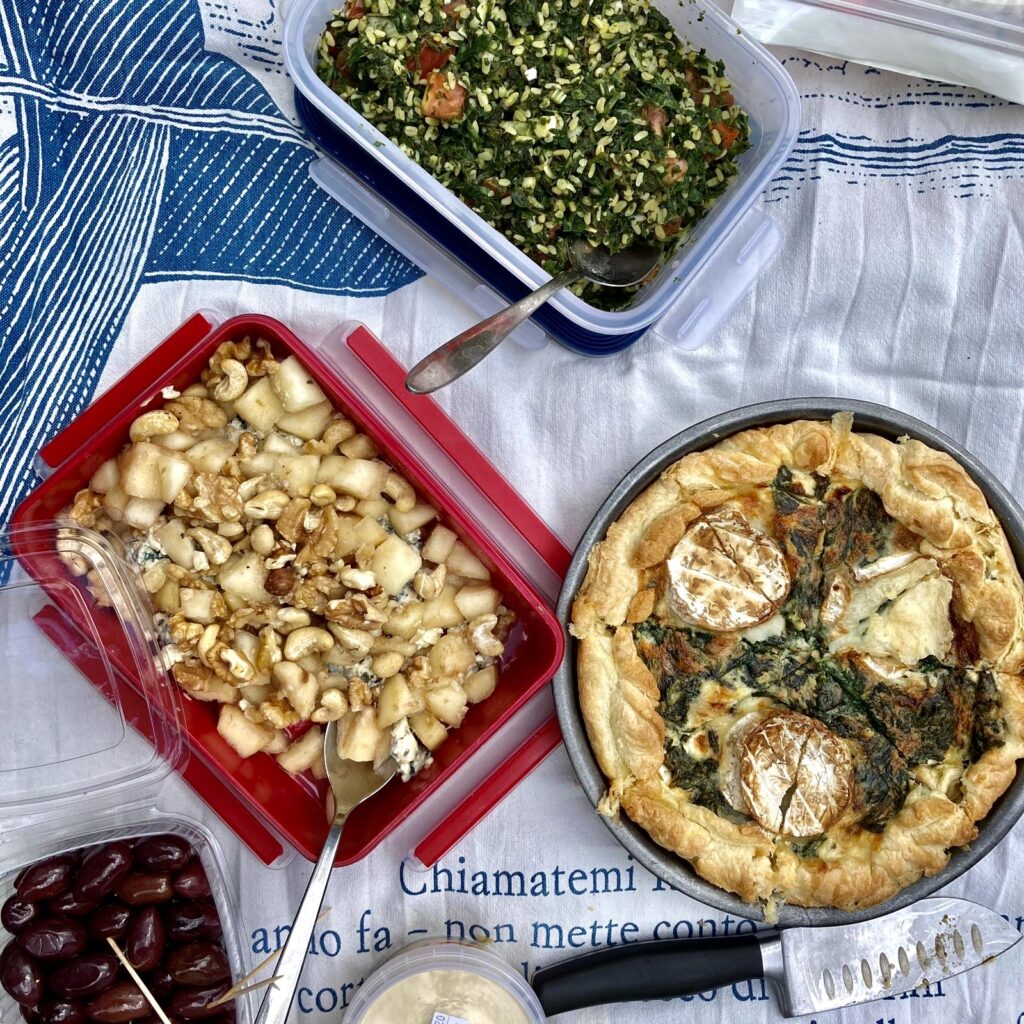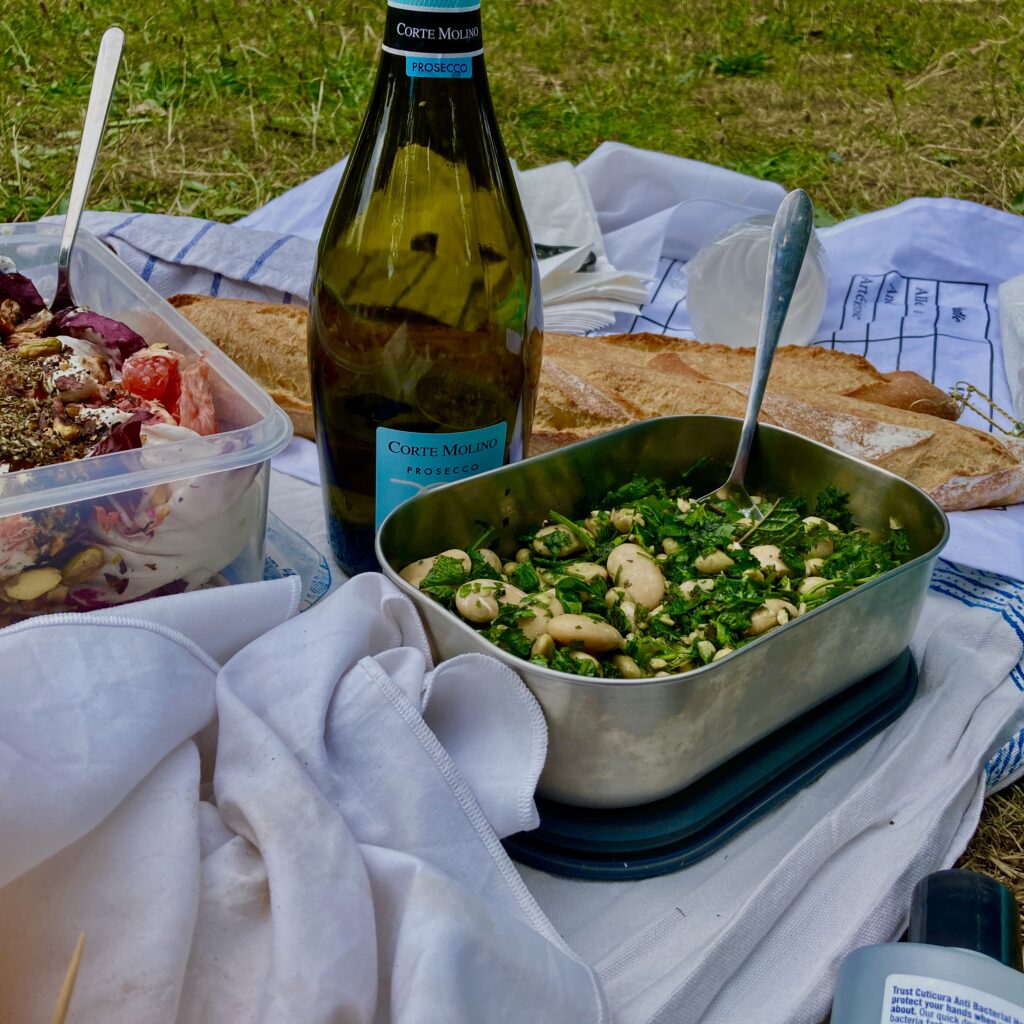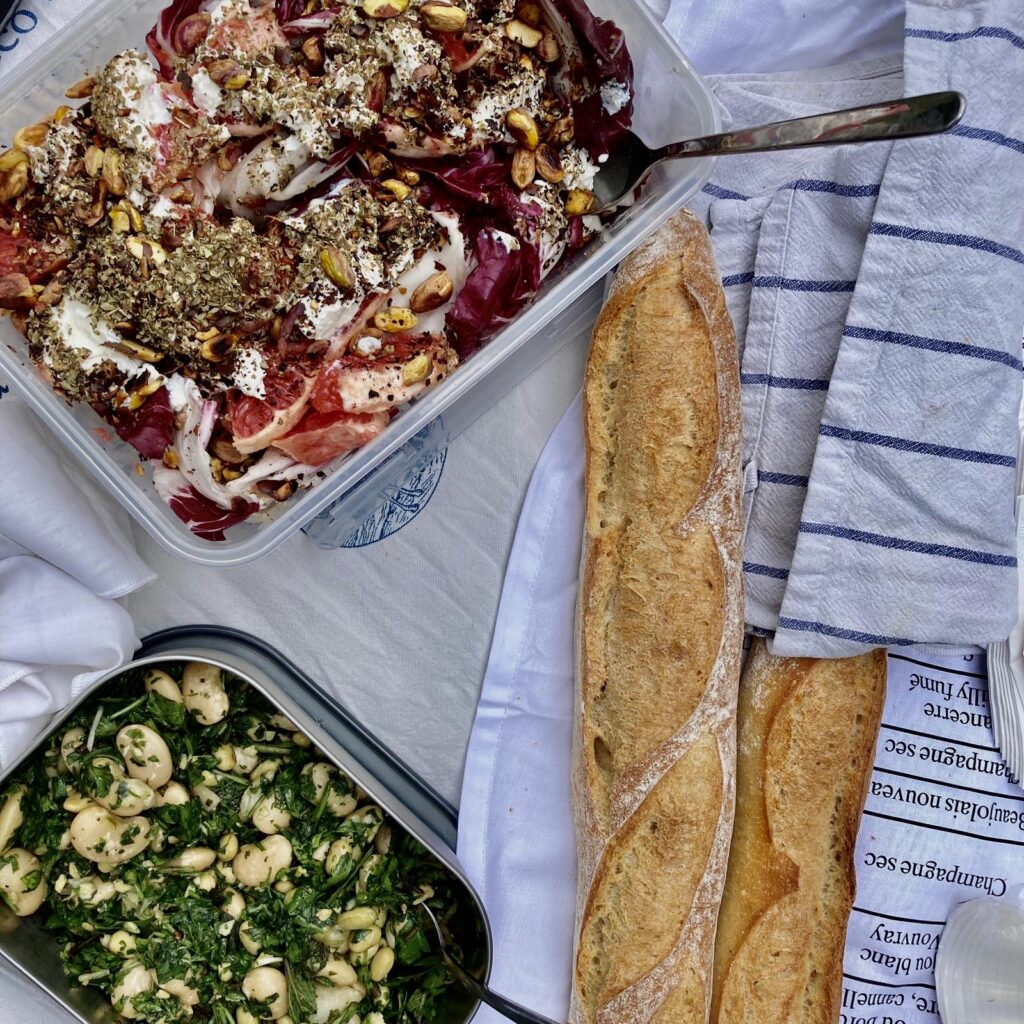 And finally, we ended our picnic feast on a sweet note with a Tarte Amandine aux Fraises, Irene's salmon pink birthday cake.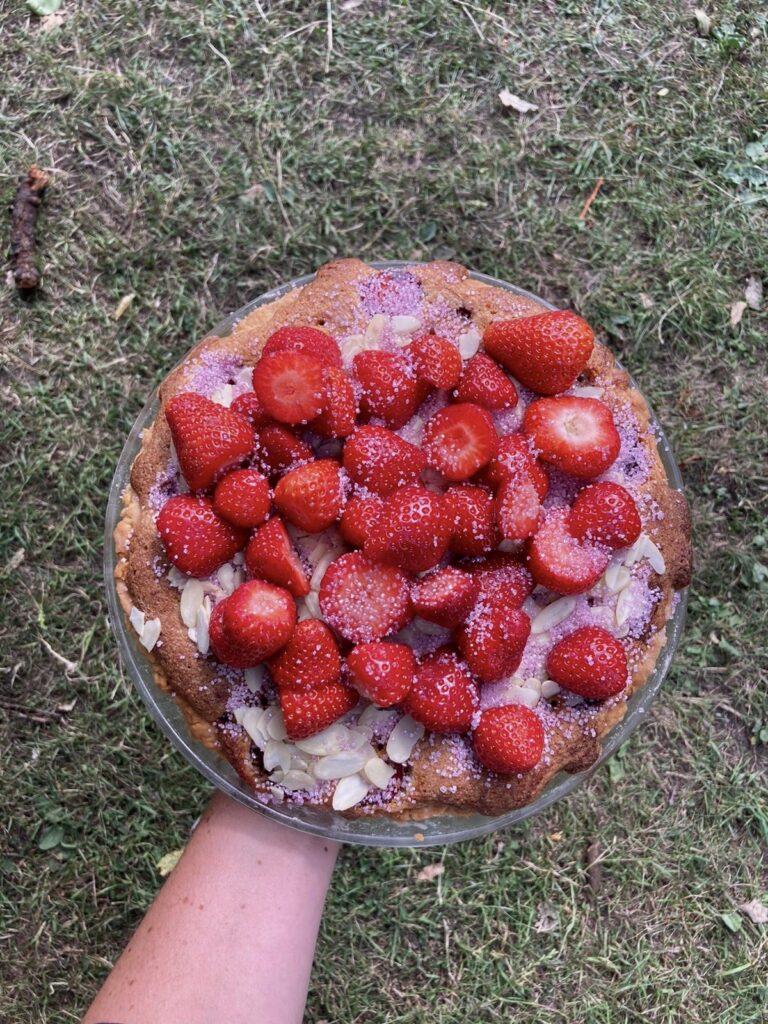 Ever the givers, here is what we have learnt from our wins—and from our fails:
You'll need more glasses than you first thought.
Toothpicks are underrated.
It's worth investing in a bottle cooler. Warm Prosecco is not so good, after all.
Nice napkins will make for a jollier picnic.
Set your picnic blanket near a tree so as soon as it starts pouring down, you can hide. On the down side, it means flowers will fly into your glass.
Portable chargers are a welcome addition to the party—please don't stop the music!
It's now been a week since restaurants have reopened so we thought we would share a list of some of our favourite locals to support:
Ever hungry, ever gastronomically yours,
Irene & Margaux