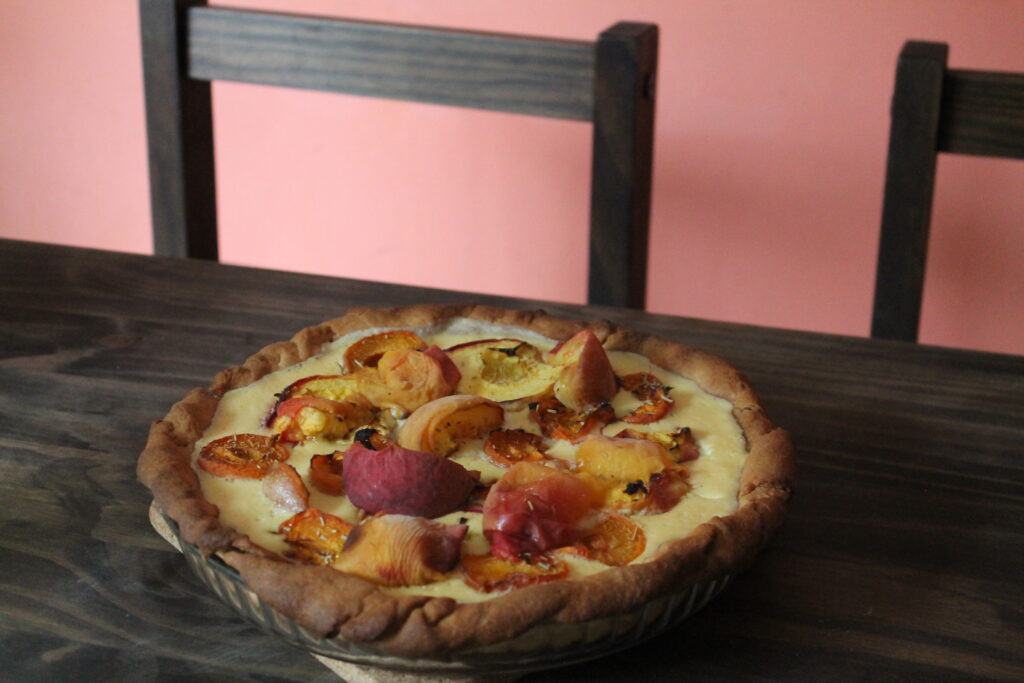 This crème fraîche, peach and apricot tart has become an instant springtime favourite, from creation to degustation. Making a pastry shell is one of Margaux's favourite baking dos, so when we noticed peaches are back and beautiful at our local fruit & veg shop, we had to experiment with them! Most traditional peach tart recipes use ricotta, but we indulged our amour for crème fraîche. We use little sugar in our baking so the final result is on the sour side, which suits our taste buds. Feel free to add extra sugar for sweetness if your sweet tooth is begging you to do so.
Ingredients

For the pastry:
250 g all purpose flour
100 g icing sugar
150 g butter
1 egg

For the filling:
3 peaches
6 apricots
3 tbsp honey
Rosemary sprinkles
200 g crème fraîche
1 lemon – zest and juice
50 g brown sugar
1 egg
2 egg whites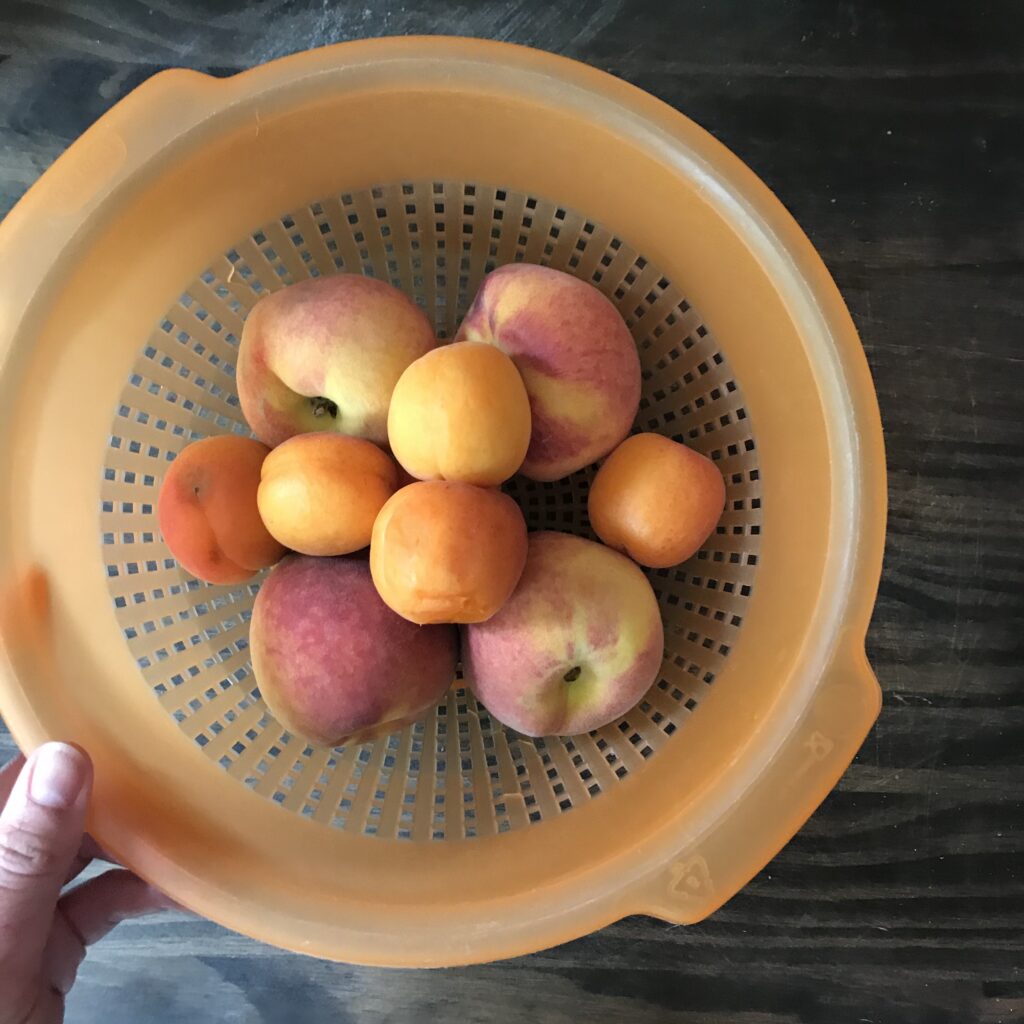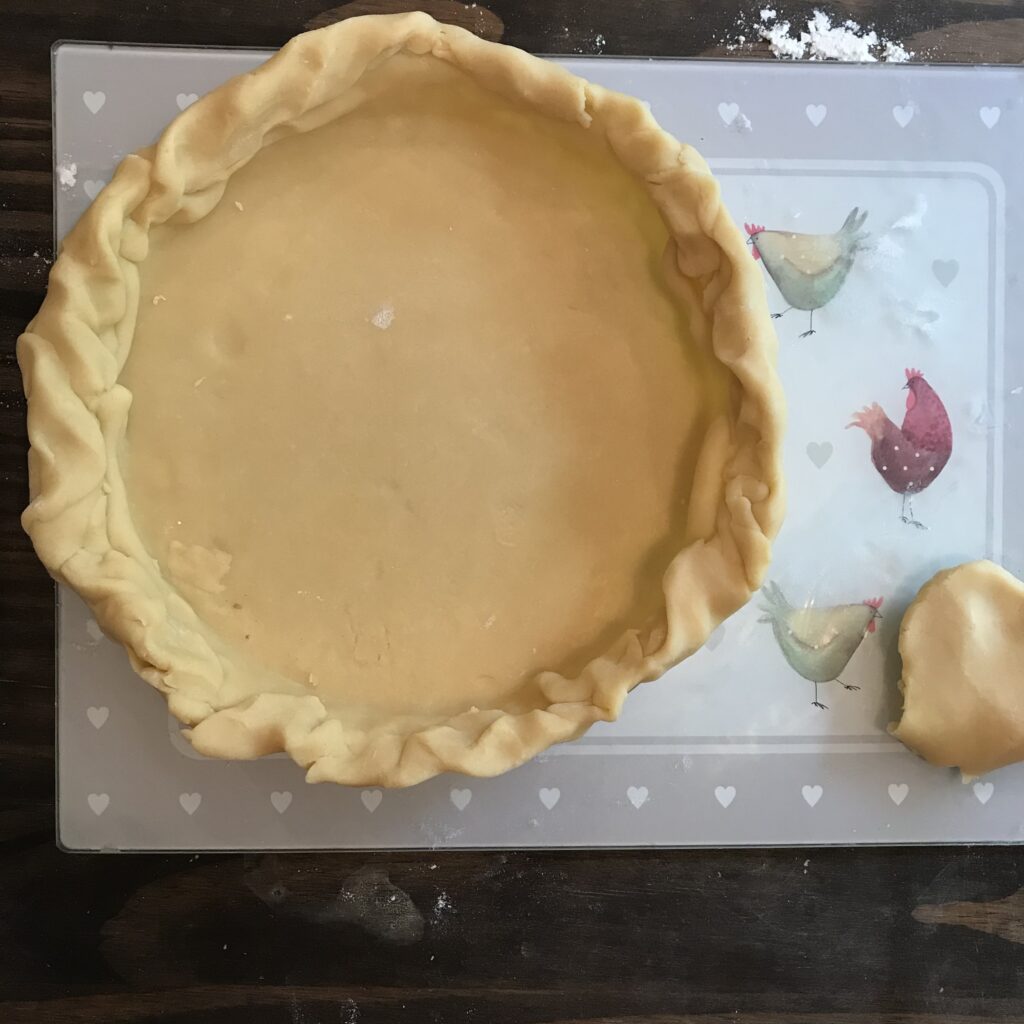 Method
Preheat the oven to 180C fan.
Prepare the pastry first. We make ours by hand but if you own a food processor, you can of course use it and spare your hands this labour. Pour the flour and icing sugar in a bowl, then slowly incorporate the butter with your hands until the mixture looks like thin breadcrumbs. Add the egg to bring the pastry together, until it makes for a smooth and consistent paste (you do not want any lumps of butter left). Roll into a log, cover with cling film, and chill in the fridge for half an hour.
While the pastry is chilling, slice the peaches and apricots in half and remove the stones. Place them cut side up on a baking tray. Drizzle with honey; sprinkle with rosemary. Roast for half an hour or until your kitchen smells like spring. Leave the fruits to cool at room temperature.
Once your pastry feels firm, roll it into a round disc and place your pastry into a tart tin. Roll up the sides and seal any joins. You can use a spare bit of pastry to push it throughout the tin – this will prevent the pastry from cracking. Be gentle! Prick the pastry and return to the fridge until firm. It should take another half hour. Meanwhile, turn the oven up to 200C.
You now need to blind bake your pastry shell. Cover the pastry with parchment paper – we like to make two layers to be safe. Pour rice or pulses into your pastry shell – they should reach the top edge of the pastry – and bake for 20 minutes. Watch it closely so it does not burn. Take out the pulses and parchment paper and return your pastry shell for another 10 minutes, or until golden. If the sides burn too fast, you can cover them with foil.
Lower the oven to 160C fan. While the pastry shell cools down, prepare the filling. In a small bowl, mix together the sugar, zest and lemon juice. In a separate, bigger bowl, whisk together the crème fraîche and one egg. Incorporate the sweet mixture slowly to the larger bowl, while continuing to whisk. In another bowl, beat the egg whites until they reach a soft peak. Incorporate to your filling and whisk some more – this will give your filling some thickness.
Once the pastry shell is cool enough to handle, pour in the filling. Spread the fruits throughout. Bake for 20 minutes or just under, until the filling is set. Careful not to over-bake it as it will continue to cook outside of the oven. Remove the tart from the oven and let it cool down.
This is a basic recipe for a thin pastry shell and crème fraîche filling so fear not and interchange the fruits, depending on taste and season. Send us pictures!

Irene & Margaux